At Donora Field in North Park on Aug. 7, with the sun at its peak, players sit in pop-up tents, waiting with anticipation. The managers scrutinize their clipboards to determine team lineups in the final seconds before the umpire calls players to the field.
The batter steps to the plate; the pitcher takes the mound. One of the managers shouts a last-minute adjustment to the outfielders. The pitcher sets and throws; the bat cracks, and the hitter takes off toward first. A long, high, fly ball careens into the outfield. Players from both benches scream. But the ball is too high and not long enough as it falls into the glove; the batter is out, and the second day of playoffs for the Steel City Softball league has begun.
At first blush, it's just another Sunday rec-league softball game. But for those involved, it's also something more: It's community. Steel City Softball is an LGBT-athletic organization with two leagues in Pittsburgh. Together with Stonewall Sports, a national sports league with a recently founded chapter in Pittsburgh, it provides an outlet for LGBT athletes and allies to have fun and compete.
"It's not that I couldn't have played for someone else," says softball player Ashley Durham. "For me, anyway, it's just about having people older than me, younger than me, same age as me to hang out with, to be a part of the community with. They get me out there. I'm more social than ever. It's the only place in the world where I feel like a superhero."
While the past two decades have seen great strides in advancing LGBT rights, participants and leaders in these leagues say organizations like theirs are still needed because they provide safe recreational spaces for LGBT players who might be ostracized elsewhere.
"We'll have people write very heartfelt letters because they struggled to play sports in high school," says Stonewall's Pittsburgh commissioner, Brian Adams. "Honestly, that's what we're here for. It's less about the competition and it's more about creating an environment to allow people to be themselves."
This year alone, Steel City has had more than 240 participating players. Its softball season starts the first week of May, and regular play runs until the last week of July, with playoffs shortly afterward. The league accepts all levels of play and is open to LGBT allies as well.
The softball league began in 1981 and is the longest-running LGBT sports organization in the Pittsburgh area. Several other LGBT sports leagues work under the Steel City moniker as well — including Steel City Volleyball and Steel City Bowling.
In decades past, Steel City didn't operate publicly as an LGBT sports league for fear of outside persecution. Today, same-sex marriage has become legal and LGBT issues are part of the national zeitgeist, but that doesn't mean discrimination has been eliminated.
Commissioner Jen Grab emphasizes that there is still a need for safe spaces for LGBT community members to flourish, especially in light of the recent mass shooting at Pulse, a gay bar in Orlando, Fla. Some Steel City players still participate solely in this league because of discrimination. After all, discrimination in the workplace because of sexual orientation has yet to be outlawed at the state of federal level.
"It is still perfectly legal to get married on Saturday and lose your job on Monday," says Grab.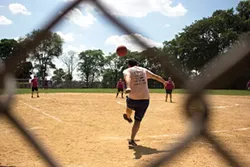 Despite the current climate, Grab and her cohorts continue to maintain the league, promoting an athletic as well as social lifestyle with a growing community. Each team organizes weekly practices, and many gather outside of games and practice for tailgating at Pirates games and bar mixers organized by Steel City.
"The fact that it was a gay league obviously interested me, as I came out a few years ago," Durham says. "To find a sense of community was really important to me and to also get back to a sport that I played since I was little. It just seemed like a good idea, and it was super easy to find."
Durham started playing softball at a young age. She played through elementary, middle and high school — where she served as varsity team captain — before taking a break in college to focus on her studies.
"[When] I'm out there playing my hardest and I see my team playing their hardest, I mean, win or lose, you come off feeling good," says Durham.
Steel City finished its season on Aug. 7 at North Park. Teams played two days' worth of double-elimination games. The league is currently gearing up for its fall season.
Like Steel City, Stonewall Sports leagues are a catalyst for LGBT community-building in Pittsburgh and other cities across the nation. A handful of leagues are under Stonewall's umbrella: dodgeball, kickball, bowling, volleyball and now bocce. The nonprofit organization was founded in Washington, D.C., in 2010 and has chapters in Charlotte, Greensboro, Wilmington and Raleigh, N.C.; Chicago; Cleveland; Philadelphia and Pittsburgh.
Adams, Stonewall's Pittsburgh commissioner, previously lived in Raleigh, where he played in Stonewall sports leagues. Aware of the impact it had on the gay community in Raleigh, Adams inquired about bringing Stonewall here. Now, he runs Pittsburgh's chapter and plays every sport it offers.
Adams says that the gay community tends to be fraught with cliques. Stonewall grants him and the rest of the players the chance to expand their comfort zones to an environment outside of the bar scene, while branching into other social groups.
"It's a sense of community for Pittsburgh. It really is," says Stonewall assistant kickball director Daniel Hill. "Anyone who's in this league, for the most part, can walk into any of the bars on Shadyside on a Friday or Saturday night and know so many people.

"When you go out in your own little group and you see these other little clusters, you form judgments. What the league has taught me is … so many of these people now are just some of my best friends that I never would have thought to say hello to before kickball came around."
The Mills family can attest to that. Son Alex Johnson played in Stonewall's summer kickball league. The family attended a Stonewall family-and-friends day a week prior to the league's playoffs, and Johnson's mom, Andrea Mills, met many parents who not only supported their children, but also played in the kickball league.
"It was, like, really awesome, because it's a kickball league that allows him to be who he really is," Mills says. "There's no judgment or anything, and it was really great to see that."
Johnson moved from his hometown of Latrobe to Pittsburgh, where, he says, the gay community is not as thriving as Pittsburgh's.
"My friends in Pittsburgh always talk about [Stonewall]," says Johnson. "They tried to get me to join last year, but I didn't. But this year I said, 'Might as well.' I have something to do for the summer. And I can get a tan."