It's a festival that requires five months of planning by a small team of volunteers — a labor of love that occupies the space between day jobs and sleeping hours. Organizers coordinate venues, plan lineups and prepare for the party. This particular party is Ladyfest, an annual tradition in the city of Pittsburgh that sets out to give non-male musicians the attention they deserve.
The first Ladyfest occurred in Olympia, Wash., in 2000. Since then, Ladyfests have popped up all over the world, including here.
On a day-to-day basis, the lineups for most of the shows in this city generally feature all-male bands. When you combine that with the fact that there are a significant number of bands in this city that include women and gender non-conforming people, the realization is enough to induce a full-on hissy fit.
This year, Ladyfest is a 40-band-deep slap in the face that questions how any of the lady-centric bands in Pittsburgh could be ignored in favor of all-male rock gigs. It's the perfect event for promoters to figure out what acts they've been missing in their lineups.
The weekend festival consists of five shows featuring bands spread across five venues in Lawrenceville, Bloomfield and Polish Hill. The event will showcase a mix of local artists and touring acts, who elevate and celebrate the vast non-male talent in the DIY scene.
This year, Jen Sabol (of Brazilian Wax and Aloe) and Steph Flati (of The Lopez) are at the helm of Ladyfest, working with a team of volunteers. "We absolutely couldn't do this without the awesome volunteers at the actual festival," insists Sabol.
For the 2017 event, Flati and Sabol started planning at the beginning of February. Flati jokes that Sabol is the Excel-spreadsheet master, with her printed set lists and to-do lists. It's a lot of work for two people, but the pair doesn't seem to mind.
"If you want to see something done and done right, you'll do it yourself," says Flati. "But I definitely don't want to think about how many hours we put into this."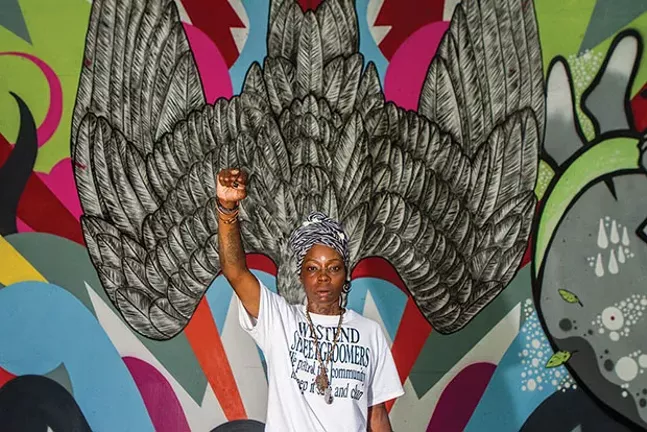 The two often get together at Hambone's to post a few bands onto the Facebook event page; send out info to performers; and coordinate venues and lineups. They have done this weekly in the five months leading up to the event.
The operation is small, but mighty, and worth the effort; money raised from Ladyfest benefits the Women's Center and Shelter of Greater Pittsburgh. In addition to the show's door revenues, some venues donate space or rent it cheaply to help out the cause. Last year, organizers raised $2,200 for the shelter.
In addition to raising money for vulnerable women in Pittsburgh, the festival is a reminder of the non-male musical talent Pittsburgh has to offer.
"This fest aims to 'showcase underrepresented populations,' as Boston's Ladyfest puts it," says Sabol. The goal of Ladyfest is much the same as the annual Promoting My Sisters showcase presented by local artist Dr. HollyHood, and occasional CP contributor. HollyHood's mission with PMS is to point out that booking an all-male hip-hop show is a conscious decision to ignore the many talented female MCs, poets and artists around the 'Burgh.
"I never book shows that are all-male ever, and it's not even something I'm doing on purpose, at least not consciously," says Flati. "Those are just the bands that I like, want to book, want to see and want to play with."
"I recently booked a show that was Leggy from Cincinnati, Reign Check and Brittney Chantele. Somehow none of them had met before the show," explains Flati. "It was awesome to see them connect and be excited about each other's art. We want Ladyfest to be that on an even bigger scale."
"Building community is important to us," adds Sabol. "Pittsburgh is small, but people get comfortable in their niche scenes and cliques. I do it myself, but it's nice to break down those walls and meet new people."
This style of networking goes a long way toward fostering cross-genre relationships. It leads to more vibrant mixed-genre shows and helps draw new crowds to bands they haven't seen before. In addition to cross-pollinating scenes, it gives those underrepresented artists a space to build friendships, coalitions and support one another.
This is especially important across age groups. Pittsburgh's music communities have a tendency to be split along age lines. The college-age scene and older punk community rarely cross paths. A shortage of all-ages venues also restricts involvement from high schoolers.
So Ladyfest helps kick down those walls. WolfBlud, a band of high-school girls who absolutely shred, will kick off the entire weekend at The Shop. They'll play alongside Pittsburgh's heavy hitters, like the noisy, abrasive and delightfully fun Trash Bag, who will be playing its final show at Ladyfest.
Revolutionary artist and activist Blak Rapp Madusa returns to the show, as well as political songstress Liss Victory. Bringing performance art and music together for the first time at Ladyfest is Other Girls, a group that uses wearable sculpture, outfits which also respond to its music.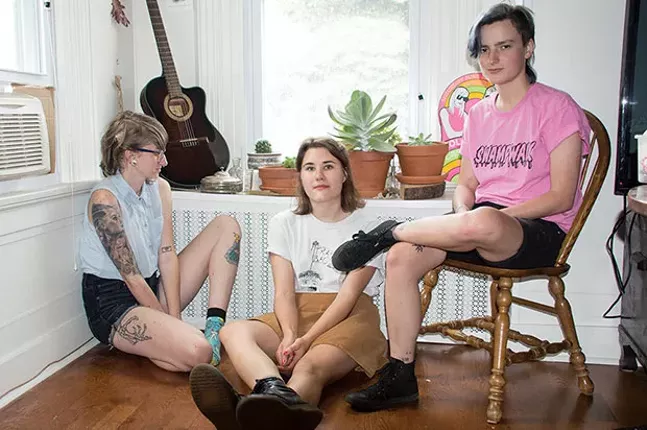 Coming down from Buffalo, N.Y., is the spicy, trans-feminist queercore band Tina Panic Noise; producer, rapper and songwriter Creamer is traveling from Providence, R.I., to join the festivities. Samm Bones, from Alaska, kicks off the Saturday show at Cattivo.
Rue, performing at Spirit for the final show of Ladyfest, is a local outfit that makes prolific and satisfying twee. Its catchy melodies marry with smart, honest lyrics to make for some serious ear worms that feel as warm as a hug from a dear friend.
Although the fest is ambitious and the volunteer work is immense, it pays off. The Women's Shelter receives donations from a well-arranged festival, and the artists get to perform in a space where they're fully appreciated and celebrated by an excited audience.
"The weekend is absolutely crazy and stressful," says Flati. "But it felt so good last year after spending so much time planning, and seeing how much fun everyone was having at some really great shows."
Check out the full schedule for Ladyfest 2017 here.