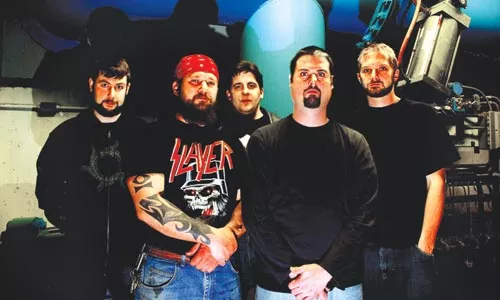 Not long after Hero Destroyed put the finishing touches on Throes, the band's second release on Relapse Records, bassist Dustin Newman split town for several months to work on a salmon boat in Alaska.
"We sort of took a hiatus," says Zach Moore, guitarist for the Pittsburgh-based metal band. "We still got together and worked on things, wrote some stuff, played one show. But when he returned, we were eager to get back into it."
As soon as Newman returned in September, the band -- which includes Moore, vocalist Pat McNicholas, drummer Neal Andrus and guitarist Jeff Turko -- was ready to hit the ground with a string of local and out-of-town gigs. "We were prepared," says Moore. "We didn't have time for adjustment. We were ready for him to come back. And it worked pretty seamlessly."
Hero Destroyed's self-titled debut was picked up by Relapse in 2008 -- a scorching collection that perfectly encapsulated the fury of the band's live shows. The follow-up, Throes, was recorded and mixed last winter at McKeesport's Soundscape Studios, blizzards be damned, and engineered by Mantic Ritual's Dave Watson.
Throes stays true to the band's signature of technical precision merged with guttural ferocity, yet builds upon the fortress the group had previously constructed. The relentless, driving whipcrack is still there, along with the seething vocals, full-on sonic assault and never-saw-it-coming-till-it-knocked-my-teeth-out timing. But Throes goes further by ushering in more variation: slower passages; flirtation with melody; unexpected elements.
The band plays a CD-release show on Fri., Oct. 8, at the Smiling Moose, with Storm King and Invader. In November, it embarks on a 10-city East Coast tour. And if Hero Destroyed can harness even a small percentage of the power captured on Throes, local audiences are in for an intense update to the sound we've come to expect from these gentlemen: staggering fucking complexity balanced by unrestrained rage.
Hero Destroyed CD-release with Invader and Storm King. 9:30 p.m. Fri., Oct. 8. Smiling Moose, 1306 E. Carson St., South Side. $5. 412-431-4668 or www.smiling-moose.com