"That film was good for us in terms of explaining gender expression, racism and classism," says True T's Easter. "But it was more for those who are outside the community, not necessarily a celebration of those on the inside. It would be better if we could tell our own story."
This kind of ownership is important in Pittsburgh, which is segregated in general, with a gay community that is "very, very segregated," Easter says. "White, cisgender men run Pittsburgh's gay community." And this impacts everything from gay nightlife to access to funding for HIV-related services.
The unofficial history is a bit fuzzy, but Pittsburgh's ball community dates to the 1960s and '70s, with "ki-ki balls" held in someone's living room. The community waned for a time, but in the new millennium, ballroom is enjoying a renaissance here, growing from one house to three.
Jazmine Brockington (known as both Mama T, and Jazmine Ebony), a long-time glamour drag performer, is sought out for guidance within the community as an elder. A trans woman in her "latter 40s," Brockington has lived with HIV for 28 years.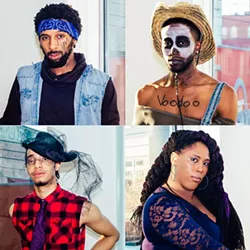 "I try to use my life experience as a cautionary tale," she says, "When we were in our 20s, we thought we were invincible, too. But I always let the kids know that I'm here for them."
In addition to prizes and status, balls offer participants a safe outlet — much needed in a community that has been marginalized and burdened by staggering statistics.
Jason Herring, PATF's director of programs and communications, says, "One of our main target communities — men who have sex with men, MSM, and transgender women — have the highest rate of HIV infection in the nation, with 1,000 new infections each month among youth ages 13-24. And trans women of color are 50 percent more likely to be HIV-positive than the general public." Nationally, transgender women, people of color and gay men face the highest risk of homicide.
DeAndre Gardner, 29, also known as Legendary Havoc Ebony, has been part of the ball scene since he was 15, and is one of three living Legends from Pittsburgh.
"For people who are disenfranchised to have this much courage to make their own fun, to make their own family, that makes me proud to be a black gay man," Gardner says. "We don't have a claim to anything but ballroom. Ballroom is our baby. That's what black gay men put out to the world."
The Galaxy Ball and True T's smaller events connect the ball community with the group's community partners. HIV/STI testing and prevention information and other resources are made available to attendees from organizations such as PATF, the Garden of Peace Project, Center for Victims, Prevention Point addiction-treatment center, housing- and job-assistance agencies, Central Outreach Wellness Center and Project Silk.
PATF's standOUT program specifically serves those most at risk for HIV infection.
"It's hard for homeless African-American youth to get resources" says Julian McClain, the program's director, also known as Julian 007. "Through the balls, we bring the resources to them. They come to dance and win money, and they can also find a job or housing. And we're testing 300 people in one night.
"It's about getting people to respect the time it takes to learn and execute a ball performance, to respect the craft, to see the community differently. A lot of stigma can be eradicated through humanity."
Adds PATF's Herring: "People make riskier choices when they live under stigma. Instead, we want these kids to know how amazing they are. And we want the larger community to stop being afraid of them, stop stigmatizing them. Because when you remove the stigma, you remove barriers to access to information and care that can keep them safe."