On Jan. 16, hundreds of femme queens, butches, butch queens in drag and their fans will converge on the August Wilson Center for the third annual Galaxy Ball.
Channeling witch doctors and the lost daughters of famed voodoo practitioner Marie Laveau, the most competitive of these guests will perform duck-walks and dramatic dips hoping to win more than $4,000 in cash prizes.
What does it take to win in ballroom, a decades-old, male/female binary-busting tradition birthed by black gay men in 1960s Harlem? It takes pageantry, imagination and attitude — infinite attitude.
Galaxy Ball: Voodoo is presented by local nonprofit True T Entertainment, part of Pittsburgh's historic underground ballroom community, in partnership with the Pittsburgh AIDS Task Force (PATF). Admission to the Galaxy Ball is free with on-site HIV testing or the completion of a PATF survey during the pre-ball mixer.
Previous Galaxy Balls have been held in December to coincide with World AIDS Day. True T co-founder Duane Binion, 29, says, "This year, we decided to hold the event during Martin Luther King Jr. weekend, at the August Wilson Center, as a celebration of the black community as well as our annual HIV/AIDS prevention ball. The new venue makes Galaxy more visible, and we welcome those who have a genuine interest in learning more about ball culture."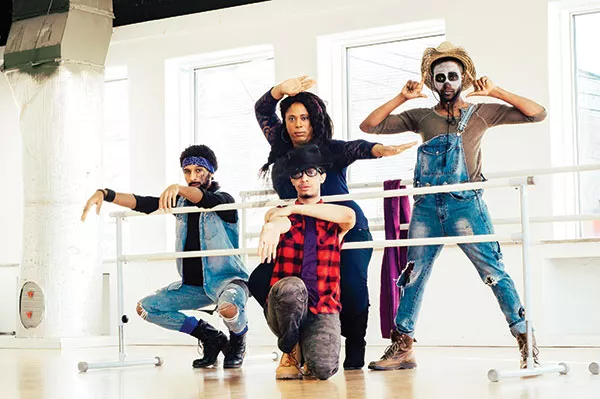 This year's Galaxy Ball is expected to draw attendees from around the region and from as far away as California and Canada. The pre-ball mixer will feature music, an open bar and more. At the main event, participants will "walk" (compete) in roughly 30 categories. Rules for each category demand high fashion and high drama.
"Historically, ballroom has been an underground Hollywood for the gay community," says Binion. "Some become national and international celebrities in their ballroom career, through pictures and [YouTube] videos."
Galaxy Ball: Voodoo is the third installment in the Galaxy series, which began in 2013. Binion, whose ball name is Naheen Cavalleri, and True T co-founder John Easter, known as Dezmanian, created The Galaxy, a fantasy world in which the balls are set. The Galaxy narrative unfolds during the balls with each competition category. Voodoo history is woven into this year's Galaxy narrative.
"Some people say voodoo is evil. It's not," Binion says. "Voodoo came from enslaved people in Haiti and America. It was a refuge and sanctuary, but they had to hide it. In that respect, it's like being gay and having to hide in the closet."
Galaxy's grand prize of $1,000 and a trophy will be awarded in the Butch Queen Vogue Fem category. In this category, a gay male — regardless of his usual identification along the scale of masculinity and femininity — dresses and presents in the traditional style of a heterosexual male. But his dance performance is a highly stylized, exaggerated, contemporary feminine vogue.
Some categories have additional criteria. This year's Sex Siren competition requires "a pair of boots and a revealing piece that will make jaws hit the floor." In "Performance in a Heel," heels that are four inches or higher are a must.
"It's basically our version of the Grammys," says Summer Elite. Elite, who gives her age as "25 to 35," has been going to balls since 1998. "Each category has its heavy hitters and favorites. I started off in Big Boys/Girls Performance. Then I took an interest in Runway."
Ballroom competitors can earn status names based on their wins, reputation, longevity and contributions to the community. Those labels range from Stars, Statements and Legends to Icons, who have competed for 20 years or more.
Ball communities are organized into "houses" that function as families. Houses offer support that some members don't get from their families of origin, or even from the larger gay community.
Ballroom was brought into the mainstream most recently when the dance group Vogue Evolution competed on MTV's America's Best Dance Crew a few years ago. And thanks to social media, ball vernacular such as "shade" and "werk" have become popular slang.
But the most infamous example of ballroom in the mainstream was 1990's "Vogue" video by Madonna, a performer who is no stranger to cultural appropriation and fetishization. That same year saw the release of the documentary Paris Is Burning, which captured ball culture in New York City during the mid-to-late 1980s.


"That film was good for us in terms of explaining gender expression, racism and classism," says True T's Easter. "But it was more for those who are outside the community, not necessarily a celebration of those on the inside. It would be better if we could tell our own story."
This kind of ownership is important in Pittsburgh, which is segregated in general, with a gay community that is "very, very segregated," Easter says. "White, cisgender men run Pittsburgh's gay community." And this impacts everything from gay nightlife to access to funding for HIV-related services.
The unofficial history is a bit fuzzy, but Pittsburgh's ball community dates to the 1960s and '70s, with "ki-ki balls" held in someone's living room. The community waned for a time, but in the new millennium, ballroom is enjoying a renaissance here, growing from one house to three.
Jazmine Brockington (known as both Mama T, and Jazmine Ebony), a long-time glamour drag performer, is sought out for guidance within the community as an elder. A trans woman in her "latter 40s," Brockington has lived with HIV for 28 years.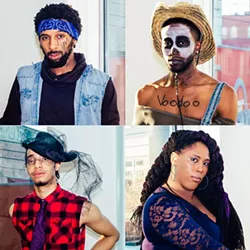 "I try to use my life experience as a cautionary tale," she says, "When we were in our 20s, we thought we were invincible, too. But I always let the kids know that I'm here for them."
In addition to prizes and status, balls offer participants a safe outlet — much needed in a community that has been marginalized and burdened by staggering statistics.
Jason Herring, PATF's director of programs and communications, says, "One of our main target communities — men who have sex with men, MSM, and transgender women — have the highest rate of HIV infection in the nation, with 1,000 new infections each month among youth ages 13-24. And trans women of color are 50 percent more likely to be HIV-positive than the general public." Nationally, transgender women, people of color and gay men face the highest risk of homicide.
DeAndre Gardner, 29, also known as Legendary Havoc Ebony, has been part of the ball scene since he was 15, and is one of three living Legends from Pittsburgh.
"For people who are disenfranchised to have this much courage to make their own fun, to make their own family, that makes me proud to be a black gay man," Gardner says. "We don't have a claim to anything but ballroom. Ballroom is our baby. That's what black gay men put out to the world."
The Galaxy Ball and True T's smaller events connect the ball community with the group's community partners. HIV/STI testing and prevention information and other resources are made available to attendees from organizations such as PATF, the Garden of Peace Project, Center for Victims, Prevention Point addiction-treatment center, housing- and job-assistance agencies, Central Outreach Wellness Center and Project Silk.
PATF's standOUT program specifically serves those most at risk for HIV infection.
"It's hard for homeless African-American youth to get resources" says Julian McClain, the program's director, also known as Julian 007. "Through the balls, we bring the resources to them. They come to dance and win money, and they can also find a job or housing. And we're testing 300 people in one night.
"It's about getting people to respect the time it takes to learn and execute a ball performance, to respect the craft, to see the community differently. A lot of stigma can be eradicated through humanity."
Adds PATF's Herring: "People make riskier choices when they live under stigma. Instead, we want these kids to know how amazing they are. And we want the larger community to stop being afraid of them, stop stigmatizing them. Because when you remove the stigma, you remove barriers to access to information and care that can keep them safe."