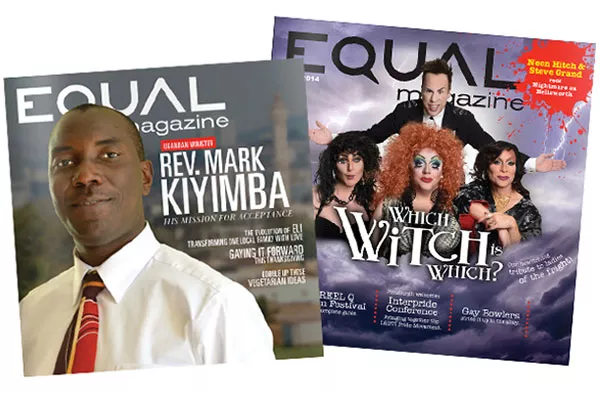 When the staff of Equal magazine put the final touches on its November issue, only one person expected it to be their last.
The publication's editor, Joe King, had announced he'd be leaving the magazine, the city's only LGBT-oriented publication, and wrote a resignation letter slated to appear in that issue.
"I just assumed they were moving forward without me," he says. When he started hearing that businesses were not receiving their usual stacks of the magazine, that was the first hint King got that the publication was ending its monthly print distribution. "I'm sort of surprised I wasn't given that information."
But King wasn't the only one left in the dark. Several contributors, contacted for this story, said they have yet to be informed of the publication's fate. There were no press releases or fanfare. And now, for the first time in decades, Pittsburgh is without a regularly released publication specifically geared toward an LGBT audience.
Gary Van Horn, president of the board of the Delta Foundation, the organization that publishes Equal magazine, says the publication wasn't financially viable — and that the board is considering ways of "reformulating" it, perhaps launching a digital version. (The publication never had a dedicated website.)
"The amount of revenue coming in versus expenses just isn't there," Van Horn says. "Print media is a tough thing to pay for, and we were mailing out a large number of magazines each month."
But those directly involved with the magazine say the problems were much larger than a difficult print-oriented business model. Several writers said there were serious issues with management and that they were regularly not paid for their work; one writer threatened legal action over late payments. And concerns about the magazine's financials reached certain members of Delta Foundation's board, some of whom have since resigned.
Equal started in its monthly format in November 2012, just as two other LGBT publications — Pittsburgh's Out and Cue magazines — were going out of business.
"With Pittsburgh's gay newspaper no longer in publication, there was a need," says Jonathan Fobear, Equal's art director. "When Gary approached me that he wanted to start Equal, he told me that he wanted a monthly magazine to tout all the things Delta Foundation was doing and be a Pittsburgh gay-community guide."
The magazine, which started several years ago as a publication that came out during Delta's pride festivities, covered everything from sex to politics — and often included glossy multi-page photo features of gay events around town. (The magazine is still scheduled to publish for this year's pride festival.)
"The Equal team was amazing to work with," Fobear adds. "If we could touch a nerve and spark some discussion in the community, those were my favorite pieces. ... I wish that had happened a little more often."
Equal circulated about 10,000 issues each month, says Van Horn, and ran several thousand more to mail directly to its members. During pride week, it published closer to 50,000.
And while all of the writers interviewed for this story say they enjoyed writing for the publication, there were consistent payment problems.
"The printer was paid late, the staff was paid late — even the graphic designer," says King, the former editor. "I actually lost two other writers last spring and summer when they had not been paid and they threatened to go to the labor-relations board — and checks were sent out again miraculously."
Karla Doolittle, one of the more vocal writers, says, "I did have to threaten [Van Horn] several times on behalf of the staff with court action" before she could get paid. "It was just all these little tricks and games," noting she received paychecks that had already expired. She resigned in 2013.
Another writer, John Britt, says the magazine stopped using him as a freelancer after he complained about late payments. "You expect to be compensated even if it's a small amount — it respects the integrity of what you're doing; we weren't paid much to begin with." He says he doesn't harbor ill will toward the magazine or Delta, and was eventually paid.
For his part, Van Horn says, "Mr. King was responsible for providing payment information ... I've asked it from him a number of times. When we got the information, we paid the writers. The foundation pays the bills that we have."
But news of payment issues began reaching Delta Foundation's board members, which concerned some about the organization's finances.
"I was told the printer was never paid," says Samuel Badger, a board member who resigned last February. "They never really wanted to talk about what's happening with the magazine."
Michael Bartley, a Delta board member who resigned the same month Equal stopped publishing, says the timing is just coincidence: "I never serve more than five years on a board and my five years were up. As far as I'm concerned, Pride is one of the best events the city has, and I hope [it] is there for years to come."
Thomas Waters, a former board member, says losing the monthly magazine doesn't suggest the Delta Foundation is in any great financial trouble: "It's just [that] this hasn't panned out as an income source."
But a board member, who asked not to be identified, says, "There's no question about it — the fact that people weren't getting paid was alarming and unusual. Board members have been concerned about the organization paying its bills."
"That's news to me," counters Van Horn, who says board reorganizations happen every few years. He says Delta is "in the process of construction" to renovate a roughly $500,000 property it purchased on the North Side — a sign of financial health.
And with respect to the magazine, he says, the board is in the process of figuring out what form it might take in the future.
"We've had a lot of conversations about the magazine and what the future will hold. We're going to reformulate."