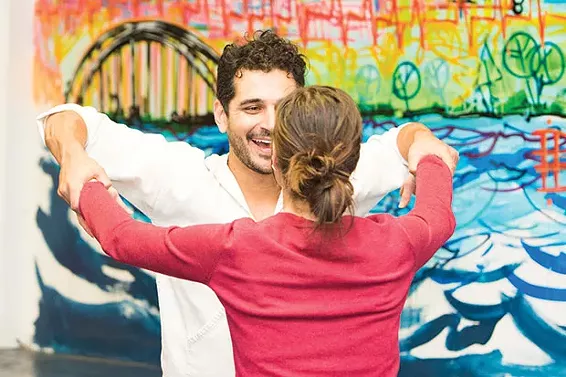 As the founder and creative director of City of Play, Adam Nelson only really has one job: to return "play" to adult lives.
Over the years, the creative agency has hosted a number of events across the city, such as game nights and dodgeball games at the Ace Hotel.
"Playing is the act of making meaningful choices, and Pittsburgh is the original city of play," Nelson says. "Right now, we're focused on making Pittsburgh this vibrant and meaningful place for everyone that comes here. Adults need to and benefit from playing."
City of Play's latest endeavor is a fitness class for social skills called Ludovia, led by director of production Greg Manley.
Ludovia is an interdisciplinary class held at The Hideout, an art space in Point Breeze's The MINE Factory; classes are 7-9 p.m. Tuesdays through May 2. The class explores physical and emotional interaction through exercise and games. Manley says the class is composed of martial arts, dance, sports, theater, yoga, massage and conflict resolution. And as with every City of Play class, there are no physical requirements to enroll.
"Play is a state of practical imagination," Manley says. "You can play by reading a book. You can play by singing a lullaby. The more you embody your imagination, the more you can play."
City Paper sat in on (and attempted to participate in) Ludovia's first class, on March 21. For the first half of the two-hour class, participants became physically warm by non-traditional means: washing the floor in pairs by crawling on all fours, and doing a cross between line dancing and jogging and yoga. Preceding this is what Manley referred to as "middle school games."
Participants stood in a circle and Manley clapped toward the person on his left side. That person would then receive the clap, and clap again to the person on their left, and so on.
The next step in this game added vocals and replaced the clap with a movement. One person started with a hand movement and a noise for the next person to repeat.
"As it gets frustrating, and as it gets monotonous, please commit to that feeling," Manley says. "When in doubt, surrender to what you're getting."
Eventually the noise and motion the group started with was changed into something new. The last step of the game placed a person in the center of the circle, leaving them to pick up wherever the sound and motion left off, and to take the expression.
"You need to give people the space to express themselves," Manley says. "If you sympathize with them, then they can't progress."
More information about City of Play is available on its website.