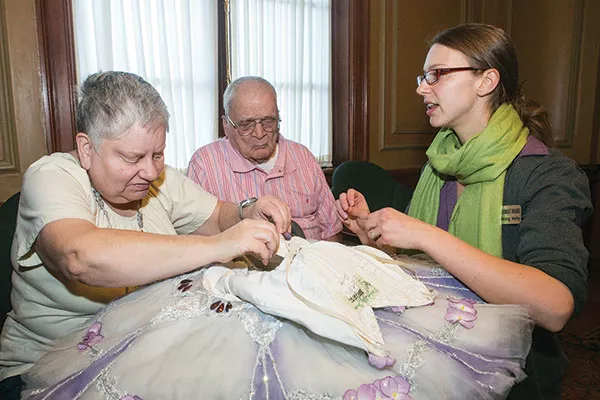 In the early 1970s, Marty Mathews was a recent graduate of Carnegie Mellon, where she studied piano. Mathews is blind from birth. So whenever she attended a play, the self-described "culture vulture" arrived hoping that one of her seatmates would read her the program.
Today, that's less of a problem: Many theater companies offer programs in Braille, or online versions accessible with audio readers. But arts groups, advocates for the disabled and disabled people themselves continue pushing for other forms of increased accessibility — including those that make disabled patrons feel not simply accounted for, but actually welcome.
Mathews, for instance, hasn't seen much dance, but she's a Tchaikovsky fan and wanted more. So 90 minutes before October's Sunday matinee of Pittsburgh Ballet Theatre's The Sleeping Beauty, she and a friend joined PBT's Alyssa Herzog Melby in a cozy Benedum Center lounge for a "sensory seminar."
Melby, PBT's director of education and community engagement, produced the Lilac Fairy's costume, and Mathews felt the tutu's layered tulle; she discovered that it sticks out, rather than laying flat, like a typical skirt. She inspected props, including the witch's devious means of pricking the princess's finger: "I didn't know that's what a spindle looked like."
Mathews also examined two doll-sized, jointed wooden artist's models that Melby used to demonstrate ballet moves. And Melby coached her through acting out Carabosse's sinister pantomime cursing the princess, including an evil, belly-shaking laugh. Following the half-hour seminar, Mathews quipped, "Now I'm gonna be in the ballet, right?"
"I like to touch things that I wouldn't normally get to touch," says Mathews, a retired computer programmer who's also done pre-performance "touch tours" of sets at local theaters. Also helpful was the live audio description that Melby and volunteer MaryAnn Graziano did for Sleeping Beauty, outlining the action through headsets for a handful of visually impaired patrons.
The PBT's audio-description program began in December 2012, one in a new, citywide wave of access initiatives. For a visually impaired person, the benefits of audio description are obvious. As Mathews says, "It just makes a difference knowing what's going on."