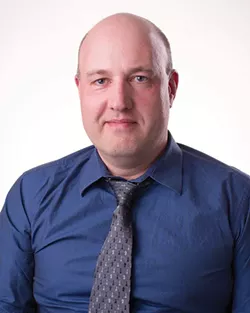 Alex Shabalov won his first junior chess championship at the age of 11 in his native Latvia. In the 35-plus years since, the now-Pittsburgh-based grandmaster won the Under-16 Championship of the Soviet Union in 1982 and took home four U.S. Chess Championship titles, most recently in 2007. On March 28, Shabalov will vie for his fifth at the 2017 U.S. Championship, in St. Louis. The winner of the 12-player round robin will take home $194,000.
In the weeks leading up the tournament, Shabalov is focused on training. He's 49 years old now, so he knows how taxing these championships can be, both physically and mentally.
To keep his mind sharp, he spends his time solving puzzles and playing short matches against a computer. Then there's the more concrete preparation — poring over strategies, and assessing the weaknesses and strengths of his potential opponents, most of whom he knows well. Aside from two new additions, this year's field has all the same players as 2016's lineup.
Then there's the physical toll. There are 11 rounds played over 12 days, so Shabalov preps with a daily regimen of three- to five-mile runs, hours in the pool and, depending on his energy, time in the weight room.
Shabalov is known for an unusually aggressive style of play, which has been described as "trying to burn the bridges before crossing them." He chalks up that approach to his mentor and fellow countryman, Mikhail Tal, who took home the world championship in 1960.
"[Tal] was known for his unconventional style: sacrifices, a lot of bluffing, really risky play," says Shabalov. "So I guess I've picked up a little bit from him and try to play the same style."
Sometimes the risks pay off, but at last year's U.S. Championship, it led to an unusually early defeat in the second round.
"[This] should be a redeeming year," says Shabalov.
You can livestream the U.S. Chess Championships, held at the Chess Club and Scholastic Center of St. Louis, at uschesschamps.com starting on March 28.