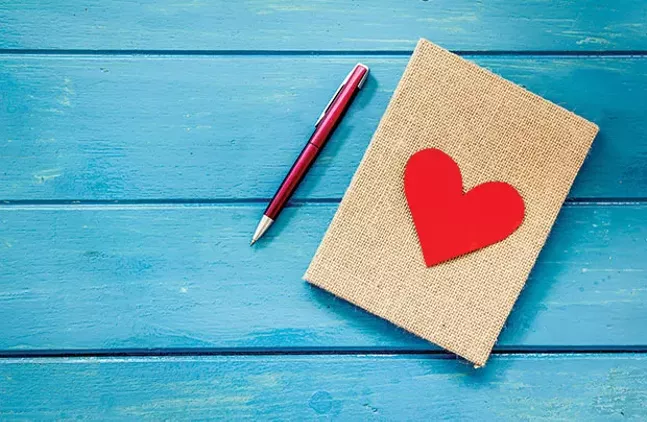 Sex is awkward, but great. Love is great, but also can be awkward and uncomfortable at times. So if both are great, which is better? What better way to find out than to ask some Pittsburghers which was better — your first time, or your first time with your first love?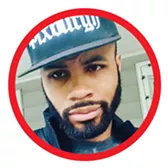 Day Bracey is co-host of Drinking Partners, a popular craft-beer-themed podcast. Bracey and co-host Ed Bailey hold lively discussions with local politicians, entrepreneurs and entertainers. Catch the podcast on epicastnetwork.com.

First time:

Freshman semester in college. I had only experienced mouth cuddles in high school. My girlfriend at the time made me wait a couple of weeks. She didn't believe I was a virgin. Why would anyone make that up? She had one of the few single bedrooms on the whole campus, so no worries about roommates walking in. I was excited and couldn't believe my boys were about to get their first hip hugs! She hopped on, and 60 seconds later, looked down in confused disgust and asked, "Is that it?" I was in a euphoric daze that would later slip into a nap. The relationship didn't last very long after that.
First love:

I met my first love at a college event where I was working security. She chatted me up because she was digging my Jackson 5 'fro and yellow security shirt combo. Afterwards, she drove me home, and I asked if she wanted to stay. Twelve hours later, I was in love.
Which was better?

The second experience was better because she was patient, more experienced. Since then, I've always preferred dating older women. In my experience, older women tend to know what they want and aren't as shy giving direction to a younger man. I never understood guys who only date younger women. Must be an ego thing, [but they're] never really testing their boundaries.
Love doesn't make sex better, communication does. A lot of people fail to listen to their partners. I communicate for a living, so I've honed my ability to read and react. Women are like sexual pirates on the high seas of orgasms. Let them plot the course, and you'll always find the booty.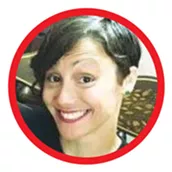 Gab Bonesso is a local comedian known for taking on controversial topics. But she also has a day job as a children's performer, spreading an anti-bullying message to elementary kids, so Bonesso decided to tell a PG-rated story. She'll be performing a free Valentine's Day show at 8 p.m. at Brillobox, in Bloomfield at 8 p.m. Maybe she'll tell the raunchier version there.

First time:

My first kiss was pretty passionate. I was 6 years old, and I planted one on Sam Zekler in the cubby-hole section of our homeroom. He told on me, and I was scolded not to kiss boys in school. I was reprimanded for this same action nine more times. Always kissing Sam. Oops.
First love:

My first real kiss with a boy that I thought I was in love with came later. I was a senior in high school, and I finally met a boy I found both hysterical and adorable. His name was Brad. Neither of us had really dated anyone [seriously], and we were both super nervous about our first kiss. We decided that we'd go to the movies, get pie at Eat'n Park and then go to the Sears parking lot in Robinson. We both applied Chapstick and began chewing spearmint gum. Dave Matthews was on the radio, and suddenly Brad's head came crashing into mine. I remember our teeth banging and my head hitting the car window. Suddenly, a cop car pulled up beside us. Brad and I were convinced we were going to be accused of trying to have sex when we couldn't even pull off a proper kiss. I made up a lie [to the cop] that we were [siblings] trying to find a last-minute gift for our parents. The cop bought it. We waited for the cop to leave, continued practicing kissing, and then I drove Brad home in a snow storm.
Which was better?

Honestly, I was probably more proud of my work in the cubby-hole section.
Adam Shuck is editor of The Glassblock, an online magazine, and creator of the popular lunchtime e-newsletter Eat That, Read This, which compiles news about Pittsburgh. Shuck's story isn't in the same format since it's more complicated: He's a gay man, who dated and loved a woman before fully coming to terms with his sexuality.

First Times:

It'd never occurred to me that I might not be straight, and would have to tell everyone around me, until the age of 17. I broke the news first to myself, and then to my girlfriend. We met at 12. I was gawky and out of place, while she was cute and savvy. We were together for most of our teenage years. She was my first love, my first sex partner, and eventually, the person it was most difficult to tell that I might be gay. She was shocked, but she understood — and we remained friends.

That summer, just after graduation, I hooked up with a guy for the first time. I can't remember if I picked him up in my extremely uncool Buick Skylark, or if he had driven himself to meet me in some predetermined, out-of-the-way spot; our cars parked side by side. The two of us in the backseat of mine, getting into each other's pants. A few months later, I moved away from my rural town and was suddenly an 18-year-old gay man in Manhattan's West Village. One or two months later, I lost another virginity in my first boyfriend's dorm room. I've loved and had sex with men ever since — today, I'm even married to one.

Whether we'd hook up once and never see each other again, or date, or stay in bed in his tiny apartment every night eating dumplings and watching movies — each relationship was its own first, its own discovery, its own particular combination of sex and love, those discrete instincts that can sometimes coincide, and thrill when they do.

Joy KMT is a racial-equality advocate who also co-founded Roots Pride, the alternative LGBT-Pride festival that sprang up in 2015. KMT is working on a full-length book of poetry and a visual-art exhibit at the Community Futures Lab, in Philadelphia.

First time:

I'm about to tell you things that I only tell my closest friends. Consequently, you have all become my closest friends. I was 14, [and] he was probably 20. My mom worked nights, and boys were constantly trying to come over, invited or uninvited. His name was Rob. I probably knew him for two days. I fucked him on my living-room floor; it lasted maybe 10 minutes. He offered me $30 after we were done. My feelings were pretty much "meh." I didn't really have too many thoughts or feelings beyond that.
First love:

I never had much physical intimacy with my first love. We were just friends with a bit of fondling at the bus stop after school sometimes. He had a girlfriend who for obvious reasons didn't like me very much. I had a necklace that smelled like his cologne, and I used to wear it all the time, especially after he went [into juvenile probation], and I didn't get to see him at school anymore. We danced together once at the Top of the Game, in East Liberty, to Akinyele's "Put It in Your Mouth" — that song is mad romantic in my mind still. He was shot in the head when I was 19 and pregnant with my first child, obviously not his. I used to think I saw him all the time after he died.
Which was better?

The intimacy of sitting at a bus stop waiting on the 81B and missing it on purpose, while snowflakes fell around us, being warmed by a beautiful boy who made me feel safe in my skin, felt much better to me than something that I can only be thankful happened before the advent of social media.