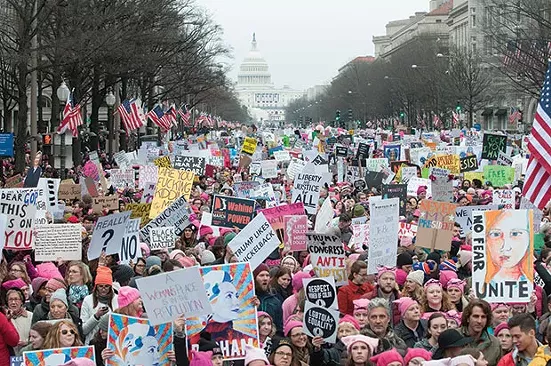 Kara Kernan, of Brookline, knew she would be menstruating on Saturday, and decided to make the best of a crampy situation.
She and two friends traveled to Washington, D.C., to demonstrate with hundreds of thousands of others in the Women's March on Washington, and Kernan made a sign that garnered the attention of a lot of fellow marchers.
It read: "I'm Bleeding from my Wherever Right Now," a reference to one of President Donald Trump's early campaign remarks about Fox News' Megyn Kelly.
"I never was a person to pick up the phone and call my senator before, but I see that as my role now," the mother of two daughters said. "We have to hold them and Trump accountable."
Although organizers tried to bill the march as being pro-woman rather than anti-Trump, it was conceived in the hours after the November election as a way for women to voice their anger and disgust with the new administration.
Some, but not all, of the signs carried by protesters on Saturday included messages against Trump ("Keep your tiny hands off my uterus," "Respect existence or expect resistance" and "This pussy grabs back" were a few notables) and the rallying cries of "We need a leader, not a creepy tweeter" and "We will not go away, welcome to your first day," were some of the most-repeated anti-Trump sentiments as marchers made their way down Pennsylvania Avenue toward the White House.
The first iteration of the march planning was marred by what many viewed as a lack of inclusion and diversity. But the organizing committee that ultimately spearheaded the march included well-known community organizers Tamika D. Mallory, Carmen Perez, Linda Sarsour and Bob Bland.
The march attracted more participants than organizers anticipated, which meant long lines at Metro stations Washington, D.C., and nearby Maryland and Virginia. There was also some confusion about when the rally with speakers and performers was over, and when and where the march was starting. Ultimately, with so many people, the original march route expanded to include the National Mall, side streets and parts of downtown. People made their way from the Capitol Building area toward the White House, along main arteries such as Independence, Constitution and Pennsylvania avenues.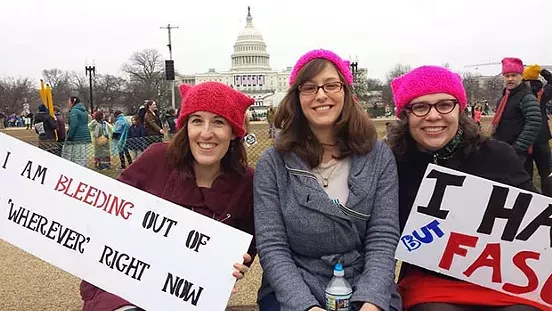 The crowd was fairly diverse, but appeared to skew toward white women over 35. Many marchers wore pink knitted pussyhats, designed to look like cat ears, but also referencing Trump's recorded remarks on the Access Hollywood tape in which he bragged about grabbing women by the pussy. (The Pussyhat Project launched online last fall with a goal toward providing a vivid visual marker for the marchers, and as a way for non-marchers to participate by making and contributing hats.)
Jennifer Will, a former Pittsburgher who now lives in Bucks County, Pa., said Saturday that she was marching to protest pledges from the Trump administration to defund Planned Parenthood. "It's not going to stop abortions, it's going to get women killed," she said. "This shouldn't be a political issue. It's a health-care issue."
Angela Jackson, of East Liberty, who attends college in Virginia, said she had never demonstrated publicly before. But she and her sister decided it was time for them to make their voices heard. She said she was angered that so many white women had voted for Trump, and was unsure what was going to happen after the march was over.
"You can't just wear your pink hat and make a sign and think that's enough," Jackson said. "I hope all these women don't just go home and think they're done. But I don't know."
Kernan said the march was not the last protest she plans to participate in. She says she will continue calling her senators daily and will make sure others know who their senators are.
"It's not enough to wear a safety pin and march and say, 'Yay! I did my part,'" Kernan said. "It's going to be a long four years. This is just the beginning."