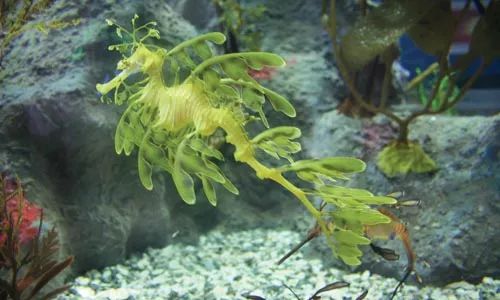 The grayer months are a good time to enjoy the Pittsburgh Zoo and PPG Aquarium. There are fewer visitors, and improved sightlines amid winter's barrenness. Presumably, even the animals are enjoying this season's mild weather, but a spot of inclement weather is a good reason to linger at the aquarium and uncover more of its treasures.
Once inside the door, visitors to the aquarium often make a beeline for the dark tunnel that denotes the start of the facility's tour loop. "Penguins!" "Sharks!" Kids call out the names of the venue's A-listers. Yet right there in the front foyer, in a free-standing cylindrical tank, is a sublime creature: the leafy sea dragon. It's a fish that's easy to miss, but it certainly merits a goggle.
Like many fish, the leafy sea dragon, an Australian relative of the sea horse, is hard to spot by design. Not for nothing does this luminous green creature, with its many spindly extensions terminating in scalloped flat "leaves," resemble a clump of delicate seaweed buoyed by a gentle current. To protect itself, the sea dragon doesn't just look tricky; it also boasts an unusual and enviable skill: It can swivel each eye in a different direction.
Leaving behind this ethereal dragon (does it have one eye on your retreating form?), the aquarium holds many more delights. The bigger tanks draw those racing the clock, but the smaller displays, some set in windows not much bigger than a TV set, are not to be missed: silvery cave fish that resemble disco goldfish; see-through glass catfish; and snowflake-like brittle stars.
The unrushed visitor discovers that all the tanks hold far more than the marquee fish. There's coral, plants, smaller fish and crustaceans among the myriad living things making up the underwater environments. Somebody rushing past the lionfish tank would miss the funny little tableau in its corner: a red, white and gray starfish slumped against the wall like a barroom drunk.
Time seems to slow within the warm, dimly lit corridors of the aquarium, where the illuminated windows of fish offer their silent, colorful testimonies to mysterious worlds we never see. Indeed, why hurry?
Pittsburgh Zoo and PPG Aquarium, Highland Park. $8 adults ($7 seniors/children ages 2-13). 412-665-3640 or www.pittsburghzoo.org