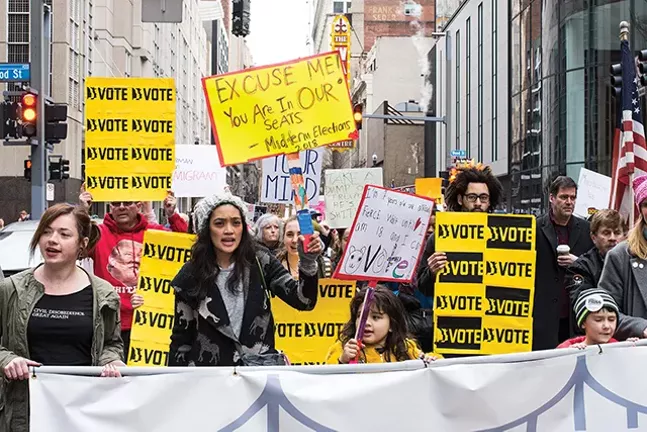 Two years ago, millions of people across the U.S. took to the streets the day after the inauguration of President Donald Trump, protesting his misogynistic rhetoric and advocating for human rights.
That tradition continues this year and Pittsburgh will be playing its part. Pittsburgh's 2019 march is titled "Building Bridges Stronger than Hate."
Tracy Baton, director of the Women's March on Pittsburgh, says community organizers came up with Pittsburgh's theme after discussing how the city's recent economic progress has not extended to certain neighborhoods like the Hill District and McKeesport.
"We felt that building bridges was a metaphor we could use to talk about not just what had been done but about what needed done … the strength of Pittsburgh is not reaching everywhere and people need to see that," says Baton.
Organizers also want to focus on connecting disadvantaged groups to advocate against islamophobia, transphobia, anti-Semitism, and other forms of hate.
"When we have bridges built between those communities, hate cannot divide us," says Baton.
Nationally, the Women's March has had trouble maintaining its own bridges. The organization was recently shaken by controversy after allegations of anti-Semitism against multiple leaders. One cofounder asserted that her Jewish identity played a role in pushing her out of the organization in 2017.
"When we have bridges built between those communities, hate cannot divide us."

click to tweet
The Women's March on Pittsburgh also faced division in the past. In 2017, some Black femme activists claimed the official march was denying queer and LGBTQ people a say in decisions, and hosted a separate rally the same day as the initial Women's March on Pittsburgh.
Celeste Scott, an organizer of the 2017 Our Feminism Must Be Intersectional Rally/March, feels the Women's March on Pittsburgh has yet to promote intersectionality in tangible, long-lasting ways. She wants a formal way for the Pittsburgh community at large to weigh in on organizers' decisions as well as a bigger platform for trans and nonbinary people.
"Everyone needs to be at the table intersectionally and given power to affect outcomes. You cannot just check a box with someone's identity but still further an agenda that doesn't reflect their communities," says Scott. "Outwardly facing, it does not seem that much intersectionality that has impactful effects beyond the March has been infused."
According to Baton, many people who get involved in the Women's March on Pittsburgh go on to create a collective and engage with the community. Most recently, members worked with Bend the Arc Pittsburgh, a progressive Jewish group, to organize a march against Trump's visit to the city following the Tree of Life mass shooting. She sees a positive, united way forward and hopes this year's march embodies that.
"In these times, as women, we know about the neighborhood issues that really matter," she said. "We create a space where anybody can come out."