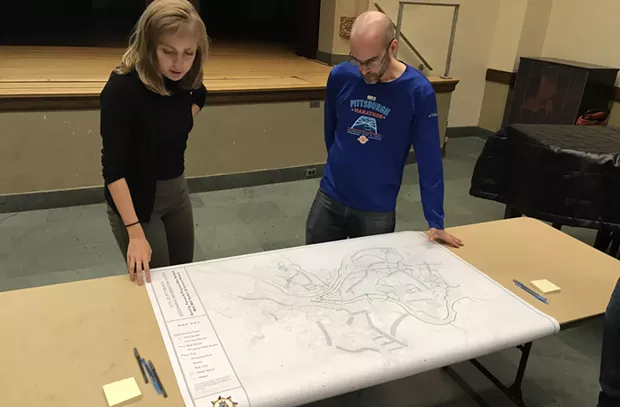 Despite what critics say, Pittsburgh is not overrun by cyclists and bike lanes. Bike commuters have increased over the years, but they still only make up
2 percent of city commuters
.
Mayor Bill Peduto's administration has installed about 25 miles of bike lanes since he took office in 2014. But
Pittsburgh
still only has about 55 total miles of bike lanes. By comparison, San Francisco, which is about the same area with similar topography as Pittsburgh, has about 150 miles of bike lanes.
And so, the city has its goals set higher in terms of biking, and is drafting a new bike master plan. At an Oct. 16 meeting in East Liberty,
Kristin Saunders
of the city's Department of Mobility and Infrastructure informed a crowd of 40 about the city's plans.
"The last bike plan if from 1999," said Saunders. "I believe we have done almost all of [the projects]. It is time for an update."
That update includes broad and lofty goals like eliminating traffic deaths
within the city and ensuring transportation and housing costs don't amount to more than 45 percent of one's income. But more specific goals include increasing the number of public schools that can be accessed by
protected bike lane
.
Saunders said only six Pittsburgh Public Schools are in a short distance of protected bike lanes.
She added that city officials will increase public outreach efforts when installing
bike lanes
. "We want to set policy so you know the lane is coming," she said.
The new plan also proposes increasing coordination with other transit agencies like Port Authority of Allegheny County and PennDOT.
PennDOT and bike advocates have had a
contentious relationship
in Pittsburgh, but Saunders noted, that the relationship between PennDOT and the city is improving.
Saunders says the city will be installing more bike counters across the
city to college more data to use in future bike planning.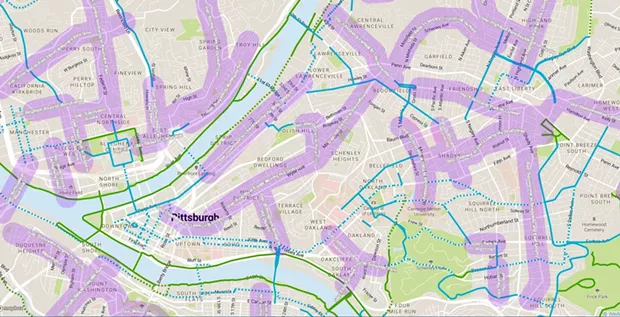 In terms of where
new bike infrastructure should go
, that is partially up to Pittsburghers. The city's draft master plan includes several "network gaps" where bike infrastructure is lacking. (The purple in the map are the network gaps.)
City officials are looking for
suggestions
on which projects and places they should tackle. People have until Nov. 9 to provide their suggestions. Suggestions can be offered using the Department of Mobility and Infrastructure's
Wikimap feature
.