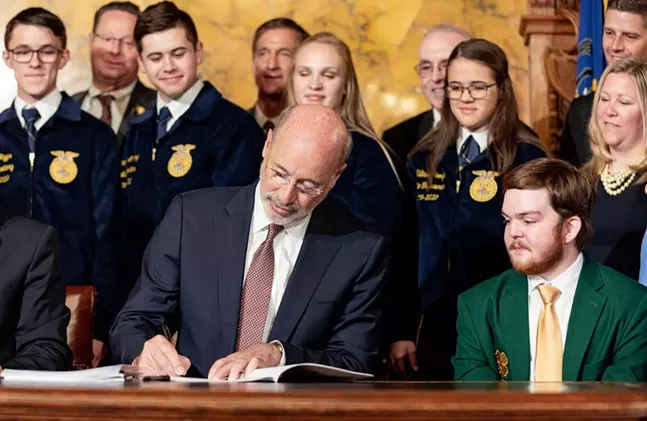 Today, Gov. Tom Wolf announced that several urban agricultural organizations in the Pittsburgh area will receive grants to help continue their missions.
Nine local organizations will receive Urban Agriculture Grants. The grants, which total $500,000, will help fund 28 projects throughout the state in the counties of Allegheny, Butler, Erie, Lawrence, Northampton, Philadelphia, and York.
"Urban agriculture is about more than just growing food; it's about growing our communities and our economy, it's about increasing quality of life," Gov. Wolf says in a press release. "In addition to urban gardens providing places to work and learn, they aggregate fresh, local products to combat food insecurity and improve access to healthy, nutritious food."
The announcement comes months after Gov. Wolf signed Act 40 to create the Urban Agriculture Infrastructure Grant Program as part of the state's first-ever Pennsylvania Farm Bill. Signed in July, it provides microgrants of up to $2,500 for one-time projects or individual applicants, and larger grants of up to $50,000 for cooperative or regional efforts with multiple partners.
Local microgrant recipients include The Small Farmer, the Hazelwood Initiative, Hilltop Urban Farm, Richard's Imagine Center of Hope, Love 'n Fresh Flowers, Operation Better Block, and the Urban League of Greater Pittsburgh. Macro grants went to Grow Pittsburgh, the Allegheny County Conservation District, and the New Sun Rising Triboro Ecodistrict Partnership.
As outlined in a press release, the organizations plan to respectively use the funds for urban garden operations, new equipment, supplies, and system updates, as well as other necessities like pest control.
"We are so grateful for this allocation of state funding in support of urban agriculture across the Commonwealth and particularly in Allegheny County as we work to realize the many benefits that urban gardens bring to our neighborhoods," says Grow Pittsburgh executive director Jake Seltman. "With over 100 community gardens, 40 school gardens, dozens of urban farms, and thousands of backyard gardens in Allegheny County, this funding will help Grow Pittsburgh to build a greenhouse to expand our capacity to provide seedlings and education for these important projects in our community."