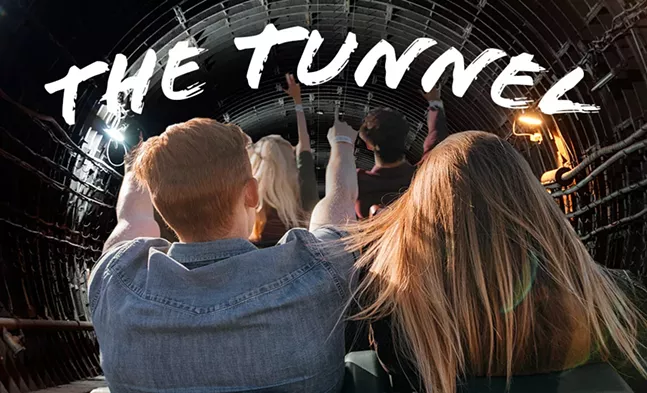 "Steel Curtain," Kennywood's new Pittsburgh Steelers-themed roller coaster, officially
opens to the public
this Saturday as part of its new "Steelers Country" section, a collaboration with the city's beloved football team.
But, in a town that already bleeds black and gold and incorporates the Steelers into nearly every aspect of our lives already, I can't help but wish the local amusement park had chosen a less-expected partnership.
Here are a few ideas of new Pittsburgh coasters I'd like to propose Kennywood considers bringing to the park in the future.
The Plumber
The Exterminator is so yesterday. It's time we replaced it with The Plumber. This indoor coaster takes you through a model home in Millvale during Pittsburgh's rainy season, which, let's face it, is pretty much all year long these days. Endearing nostalgic signs from Pamela's Diner and Jean-Marc Chatellier's French Bakery greet you as you weave your way through the model kitchen, with music from upcoming shows at Mr. Smalls Theatre blasting over the speakers as the ride climbs up into the teenaged son's bedroom. Then, brace yourself for the downhill climb into a ... flooded basement. Surprise! It's a water ride, where not even a trademarked Roto-Rooter rain poncho will keep you safe from getting drenched from head to toe.
Dave DiCello's Revenge

Every seat on this coaster has a state-of-the-art digital camera built into the seat above the handlebars. Every rider gets only one shot at taking a photo during the ride. Will you choose a landscape shot of the steel mills across the river, visible once you climb your way to the top of the coaster? Or will you swivel it around for a selfie as you lift up your shirt and pretend like you're the first to come up with that piece of hilarity? The world is your oyster! At the end of the ride, all of the photographs are displayed and available for purchase. Pittsburgh superstar photographer Dave DiCello mans the booth, offering to edit selective color into images for an additional price.
The Tunnel
This coaster replaces the popular Racer, taking inspiration from Pittsburgh's morning commute through the Squirrel Hill Tunnels. The ride starts off like a bolt of lightning, taking riders on a high-speed chase, with two side-by-side tracks racing for the finish. Until you get to the tunnel, that is. There, all of the cars come to a complete hault where you just sit until the park closes. Make sure you go to the bathroom before boarding.
Have an idea of your own?
Send it over!