In a town near Pittsburgh named for a city in Italy, there is a Thai restaurant run by a man whose name sounds Russian. We couldn't wait to find out more.
Pittsburgh Thai Restaurant by Boris is the third generation of Thai eateries to occupy its sweet little storefront on a Verona side street. Its immediate predecessor was Nicky's Thai Kitchen. Nicky's outgrew the space and moved into two locations, Downtown and on the North Side, freeing this spot for another restaurant to make its name.
And what an intriguing name it is! We sought the back story from our server — an enthusiastic Thai man who turned out to be Boris himself. The nickname is a truncation of his full name, Borisuth, and after working at another local Thai restaurant for years, he decided to open his own.
Mystery solved, we availed ourselves of Boris' frank expertise, as he guided us toward some selections and away from others. At first glance, the menu was fairly rote, with the standard array of Thai curries, noodle dishes and stir fries, some of which seemed to veer quite close to Chinese-American fare. But between the "Specialties" section of the laminated menu and a loose sheet of "Chef's Specials," we put together an order of several dishes outside the usual offerings at local Thai restaurants. These were dishes that, we hoped, would reveal Boris' particular tastes and talents.
Corn fritters may be our favorite Thai snack, but we usually make them from a Thai cookbook at home, since few restaurants offer them. Boris' version was all about the corn: whole kernels lightly bound together in an ultra-crispy batter, and served with a spicy-sweet sauce enhanced with pineapple juice.
Chicken satay was unremarkable, and deep-fried Thai toast wasn't quite crisp enough. But steamed dumplings, in shumai form, were superb, topped by little bits of crispy, minced garlic, which acted as garnish, flavor and texture enhancer all at once. Alas, the accompanying sweet-and-sour soy sauce was mostly just regular soy, unworthy of the dumplings.
One of the entrees we were most eager to try was the tropical bird's nest. Part of the appeal was that, instead of the fried noodles used in the Chinese classic, Boris used shredded potato. Unfortunately, like the toasts, the potato wasn't crisp enough. Even the unsauced edges, which should have been crackling, were chewy instead, and the bottom of the nest, soaked in sauce, was soggy. Within the nest was a stir fry that hewed too closely to Chinese takeout, with meat, seafood and a familiar cast of veggies tossed in a brown sauce that wasn't particularly spicy. That said, all of the elements — shrimp, chicken, scallops that weren't even mentioned on the menu and vegetables — were superbly cooked. With a bit more spice, and a much crispier nest, this dish would be amazing.
No caveats are necessary to describe the Massaman curry, that mellow, supremely satisfying stew of earthy potatoes and crunchy peanuts to which Boris added pineapple chunks, lending a note of tropical brightness. A dining companion's pad see ew, a street-food classic, featured wonderfully chewy flat noodles that took up the simple soy-based sauce without any sogginess. But the pork, chosen from a list of proteins, didn't have the chance to do the same, and failed to cohere with the rest of the dish.
Choo chee, an herbal, coconut milk-based gravy similar to red curry and accented with kefir lime leaves, is a common preparation for seafood. Boris used tilapia, cooked with more care than we often see with this farmed fish: It turned out mild and moist without any tough or dry edges. Along with a bed of green vegetables, this made for an excellent (and visually pleasing) base for the aromatic choo chee sauce.
Tamarind tofu was also excellent, with firm chunks of fried tofu and tender vegetables maintaining their distinctive flavors and textures in a sweet-tart sauce.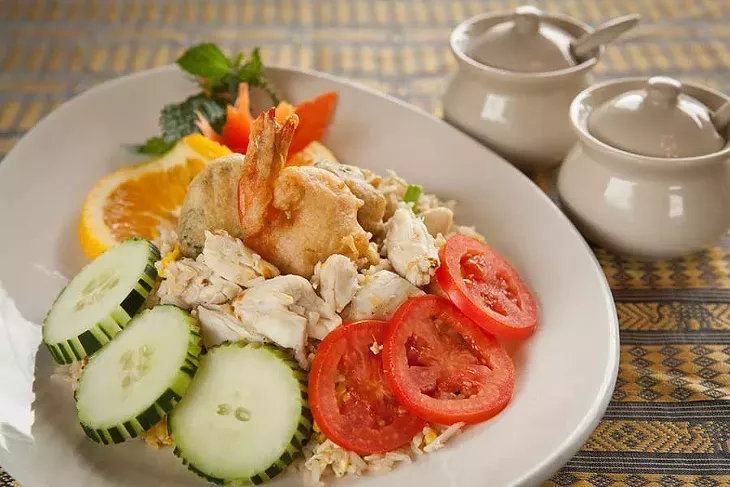 7 slides
We were charmed by our time with Boris, an engaging man who maintains a pleasant restaurant. Reflecting on the dishes we liked best, we think that, next time, we'll just tell him what we like, and trust in his obvious enthusiasm and long experience to guide us to a great meal.