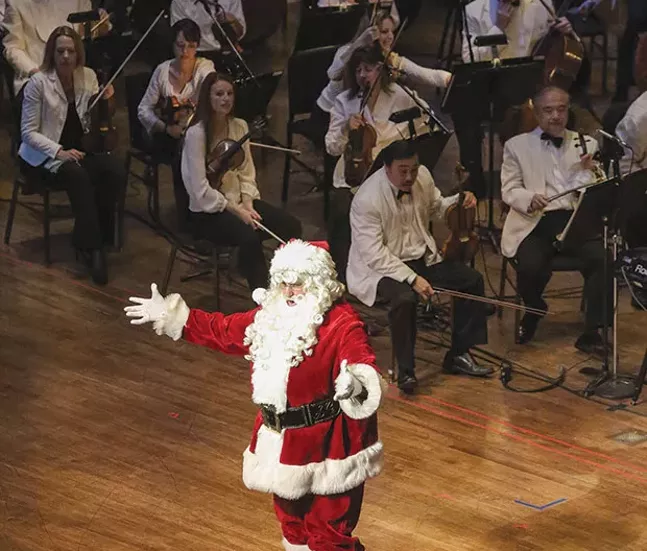 The holidays just wouldn't be the same without a festive soundtrack to put you in the spirit of the season. And when you're sick of hearing the same tired renditions of the same 10 songs on all of your favorite radio stations once they've made the holiday switch, there's really only one thing that can bring that music back to life: the Pittsburgh Symphony Orchestra.
The Pittsburgh Symphony Orchestra's Highmark Holiday Pops concert has been a beloved tradition for more than 25 years. It keeps families coming back to hear their favorite holiday music performed by a live ensemble. This year, the beautiful Heinz Hall venue features a Chanukah menorah and 22-foot Fraser fir Christmas tree decorated in a "Winter Wonderland" theme in the Grand Lobby.
This year's Holiday Pops concerts will be conducted by the associate conductor of the Pittsburgh Symphony Orchestra, Andrés Franco. Franco, who is also the music director of Tulsa's Signature Symphony, will bring his own personality to the show, while still staying true to time-honored traditions.
"We will have many of the audience favorites," Franco says. "You have to be aware of those traditions, but also I like bringing new ideas into the program." Attendees shouldn't worry, as classic crowd-pleasers like "Sleigh Ride," "Chanukah Lights," the "Hallelujah Chorus" and a sing-along are still a part of the festive line-up.
"[The audience] will probably leave with a new favorite holiday-music piece, because we are doing a couple of wonderful pieces that aren't the usual fare, but are also connected to the holiday season," Franco says.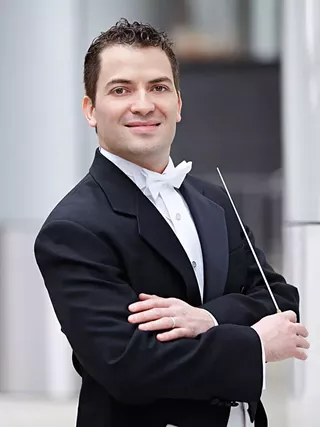 One piece that Franco cites as a highlight features an unusual instrument in the spotlight — the tuba. The symphony's principal tubist, Craig Knox, will perform the solo in the playful piece called "Wassail Wassail All Over the Tuba."
"Everyone will have a great time throughout the evening," Franco promises. "There will be a couple of fun surprises that you don't want to miss."
Guest performers will join the symphony for the season's shows. Vocalist Ryan Silverman, who received a Drama Desk nomination for Best Actor for his performance in the Broadway revival of Side Show in 2014, will join the Pittsburgh Symphony for its Holiday Pops this year.
Another guest vocalist is Oscar-winner Vanessa Campagna. Campagna, whose rendition of the classic Christmas song "Little Drummer Boy" made it into the Top 40 of the holiday charts, was born and raised north of Pittsburgh, in Beaver Falls.
"I'm so excited to be a part of this year's Holiday Pops concert," Campagna says. "I always love performing with the PSO. I grew up performing with them. It all started when I was 8 years old. The late Marvin Hamlisch chose me for the Holiday Pops concert, and I have had the honor of doing it every few years since. I currently live in Nashville, so I'm really excited that I get to come home and spend six nights at the beautiful Heinz Hall with some of the most incredible musicians in the world. I'll be singing one of Marvin's songs, 'Chanukah Lights,' as well as 'I'll Be Home for Christmas' and 'The Prayer,' with Ryan Silverman. I really can't wait to be back in Pittsburgh and back on that stage once again."
Whether you make it a special date night or take the kids to a Saturday matinee, the Holiday Pops is the perfect way to embrace the splendors of the season. And you better watch out — because there will be an appearance by the man himself; Santa Claus will ride his sleigh all the way to Heinz Hall.
"[When the audience leaves], they will feel happy and ready for the holiday season," says Franco. "It's a very uplifting show, and I am a hundred percent certain that everyone will get to hear one of their favorite holiday tunes."
The show will run for two weekends in December, Dec. 8-10 and Dec. 15-17. Showtimes are Friday and Saturday evenings at 8 p.m., with 2:30 p.m. matinees on Saturday and Sunday. Doors open an hour before each performance.
And for an extra-special show, check out a one-night-only holiday performance by Celtic Thunder. In its 10th tour of the United States, the world-renowned singing sensations will be joining the Pittsburgh Symphony Orchestra on Tue., Dec. 12, at Heinz Hall, at 7:30 p.m. The featured soloists from the group will be Damian McGinty, Ryan Kelly, Emmet Cahill, Neil Byrne and Michael O'Dwyer. Celtic Thunder will perform a mixture of holiday and non-seasonal numbers, including hit songs from its albums Legacy, The Show and It's Entertainment, along with songs from their popular holiday albums.