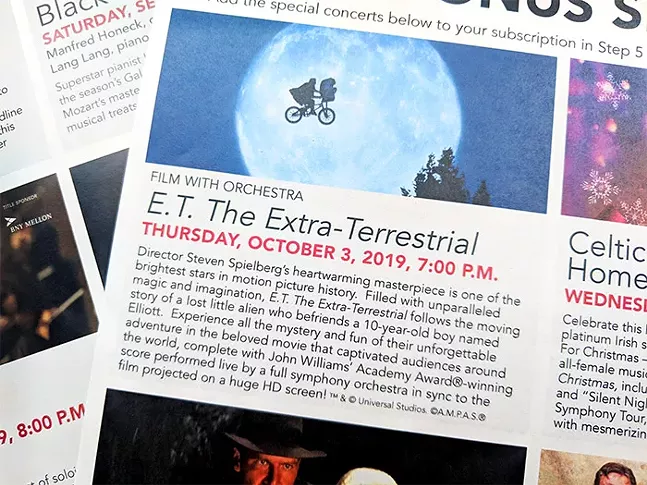 Aretha Franklin, Indiana Jones, and Bugs Bunny walk into Heinz Hall. No punchline, just amazing music accompanied by an all-star lineup of films, musical tributes, and classical favorites for the Pittsburgh Symphony's next season.
"Experience the Power of Music," the theme of the Grammy-award winning orchestra's 2019-2020 season, was announced this morning at a special private concert by four PSO musicians performing highlights from the upcoming programs.
"You Make Me Feel Like a Natural Woman" teased the PNC Pops series Tribute to Aretha Franklin, coming in October 2019. They're still in the process of auditioning the vocalists, but the song was surprisingly still soulful as an instrumental. The following month, fans of the Fab Four will have a hard time not singing along to Revolution: The Beatles Symphonic Experience. The strings on this morning's performance of "Here Comes the Sun" lit up the room. My prediction? I'd be surprised if this one doesn't sell out.
Other highlights of the Pops series includes Bugs Bunny at the Symphony in March 2020, combining Looney Tunes with original scores played live; and David Letterman's bandleader, the great Paul Shaffer, will perform with the symphony in May 2020. Can we get a Top Ten Reasons to Visit the Symphony, Dave?
Fans of '80s movies, bring on the Reese's Pieces and fedoras. Both
E.T. The Extra-Terrestrial
(October 2019) and
Raiders of the Lost Ark
(February 2020) will be shown on the big screen, accompanied by the orchestra performing the film scores live.
The season officially kicks off with "A Night in Black and White," the symphony's annual fundraising gala in September 2019. Music director Manfred Honeck will conduct the concert, with world-famous pianist Lang Lang performing Mozart's Piano Concerto No. 24. A dinner and party will follow.
Other highlights include the BNY Mellon Grand Classic Series, featuring Beethoven's "Eroica" in October 2019, Prokofiev's "Romeo & Juliet" in January 2020, and "Petrushka!" in March 2020; the Year of Beethoven, celebrating the 250th anniversary of the composer's birth; and a European Tour, previewed first in Pittsburgh in October 2019 before symphony musicians take the show on the road to ten European cities.
For more information and ticket info, visit
pittsburghsymphony.org