In February 2013, activists launched a petition asking the City of Pittsburgh and Allegheny County to enforce laws requiring set-asides for public art in publicly funded construction projects. Officials, who acknowledged that these so-called "percent for art" laws have gone unenforced, said they were revamping them.
Activists are still waiting, 18 months — and some 2,200 online petition signatures — later. And there are still disagreements about what the ordinance should say.
Pittsburgh's current ordinance, passed in 1977, requires that city-funded new buildings or renovations costing $50,000 or more reserve 1 percent of the total project cost "for the inclusion of works of art." (The county adopted a similar law in 2005.) But around 1990, the city stopped enforcing the ordinance and instead began including a public-art line item, of about $50,000, in its annual budgets.
That money provided funding to projects like the Industrial Arts Co-op's "The Workers" sculpture, in South Side Riverfront Park, and JoAnna Commandaros' "Lawrenceville Life Links" murals on Butler Street. But the public-art line item has itself appeared only spottily in the city's austere recent budgets; it's absent from this year's budget entirely.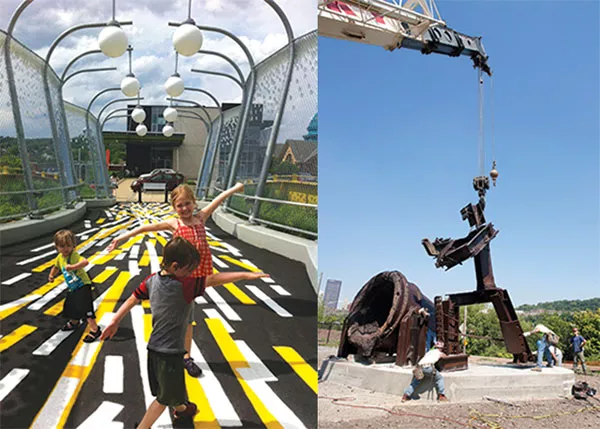 That disregard for public art frustrates Carolyn Speranza. "This is about equity," says Speranza, an artist and activist who's been the main spokesperson for the Percent for Art Campaign. "This is about people being able to earn a living within their profession." She points to economic benefits — for fabricators as well as artists — as well as aesthetic ones, and notes that cities like Seattle have successful percent-for-art programs.
Since launching its petition, the group has held rallies and a Twitter campaign, and acquired allies including Fight Back Pittsburgh and the Hill District Consensus Group. Mayor Bill Peduto is known as an arts booster, and Speranza says a meeting in January with officials from Peduto's new administration left her believing that a draft of a new ordinance would be forthcoming in March. But come August, still no draft.
The city's public-art manager, Morton Brown, has been trying to revive the percent-for-art law since he took the job in 2009. Brown acknowledges that he'd hoped to make a draft of a new ordinance available for public comment this past spring. He says the delay was largely due to the transition to a new administration: Public art falls under the city's planning department, and new planning director Ray Gastil wasn't confirmed until June. "We could not do anything without his buy-in, and he wasn't even fully established yet," says Brown.
Brown says he now hopes to present a draft of the new law for public comment by year's end, and then to present the ordinance to city council. (As for Allegheny County, in an email, spokesperson Amie Downs wrote that while the administration of County Executive Rich Fitzgerald is "extremely supportive of public art ... there are very few county-only [construction] projects" to which the county's percent-for-art law would apply.)
City officials consider the city's current law effectively unenforceable because it requires the department head overseeing a given construction project to actively request artwork for that project — seldom a priority, especially in cash-strapped times. Brown wants to make the 1 percent set-aside automatic, and possibly expand eligibility beyond buildings, to include things like paving and sidewalk projects.
Making a successful percent-for-art plan can be a challenge. "There are a lot of places that have flawed legislation," says Barbara Goldstein, a nationally known consultant who's helping Pittsburgh revamp its public-art plan. "It's a matter of political will to change legislation so that it's more comprehensive and it works better."
Indeed, once Pittsburgh's draft ordinance goes public, two issues might prove contentious.
One is whether smaller public-art projects should be reserved for local artists. Speranza says yes, as a form of equity and buy-local economic development. Others disagree. "I believe the best artists should be selected for the job regardless of geography," says Renee Piechocki, who heads the city's Office of Public Art. A preference for locals, she says, "begins a culture of local-artists-only, which is not productive for local artists." As a practical matter, Piechocki adds, most small public-art projects here will not attract many out-of-towners anyway.
Goldstein says that a local-preference mandate might constitute an illegal restraint of trade. But she notes that Seattle — whose public-art program she ran from 1993-2004 — made a practice of advertising projects only to regional artists.
Brown calls local preference "a complicated issue" that can be addressed during "the public vetting process."
Another issue involves nongovernmental municipal authorities, like the city's Urban Redevelopment Authority and the Sports & Exhibition Authority. The existing law doesn't mention such authorities but Goldstein, for one, says Seattle included its stadium authority in its percent-for-art program, and Pittsburgh can do the same. "It's not rocket science," she says.
According to mayoral spokesperson Timothy McNulty, however, "The city's legal position [is] that city ordinances like percent for art, prevailing wage and similar requirements cannot legally bind authorities." Still, McNulty adds in an email, "[T]he city can encourage them to comply or sign agreements with authorities to voluntarily bind them."
While public-art advocates mostly prefer legislative mandates, they note that some public art is done voluntarily, like the grant-funded artworks at the David L. Lawrence Convention Center. State Sen. Jim Ferlo, a URA board member, adds that URA board members are mayoral appointees. "If [Peduto] wants something, he can make it happen," says Ferlo (D-Lawrenceville).
Goldstein, who's also headed the public-art program in San Jose, Calif., agrees that no matter what the laws are, a city needs "a commitment to art."
In fact, Goldstein will return to Pittsburgh later this month to meet with Peduto and with new city planning director Gastil — whose résumé, coincidentally, includes a stint as Seattle's director of city planning (though he was there after Goldstein). She says Pittsburgh's new leaders are committed to public art, boosting prospects for a new ordinance: "I feel pretty optimistic that things are going to get moving over the next couple of months."