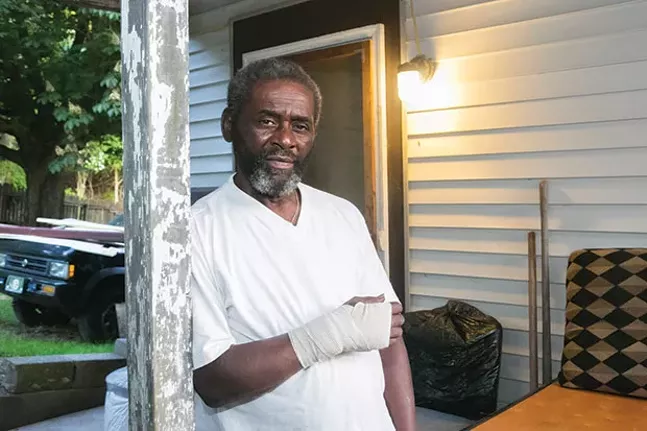 Jayvan Tarver has lived in his two-bedroom house in Garfield for 27 years. Even though Tarver rents the house on Hillcrest Street, he considers it his home. Over the years, he's replaced its basement door and done some rehab on the back porch.
Tarver, 64, was diagnosed with cancer in 2011. He's since recovered, but years of medical treatments meant he couldn't work and he's been on disability ever since. Adding insult to injury, a few weeks ago, a "House for Sale" sign went up in his yard.
Several months ago, Tarver says, he reached a verbal agreement with his landlord to purchase the home for $25,000. But a few weeks ago the landlord died, and his wife has decided to sell the house, which is currently listed for $49,000. Tarver says he can't afford the new selling price. He's looked for other places to stay, but most available apartments are outside the neighborhood and beyond his budget. He currently pays $500 a month in rent.
But Tarver isn't giving up on buying the home where he raised his kids. With help from a neighbor, he started a GoFundMe page to raise cash to purchase the Garfield house.
"I really feel like when I moved here, I felt like it would be my house till I pass, because everyone I knew was around me," says Tarver. "It has been hard. I love this neighborhood, and I love the neighbors."
Even though Tarver's story is exceptionally dire, displacement caused by landlords selling property is common in many Pittsburgh neighborhoods, as are rising rents. Housing advocates, real-estate agents, city politicians and policy experts are proposing ways to address this problem, but they are at odds on how best to do that.
Pittsburgh City Councilors and housing advocates want to fund the city's affordable-housing trust fund by raising Pittsburgh's real-estate transfer tax (RETT), while real-estate agents say the tax will hinder city property sales. Agents believe structural changes at city departments would be more effective, and nonprofit policy experts think a mix of both taxes and reforms are best.
But after a year of affordable-housing deliberations in city council, a sense of urgency is hanging over the city. The longer officials wait, the more residents like Tarver will struggle.
Pittsburgh City Councilor Daniel Lavelle introduced legislation earlier this month to increase the city's real-estate transfer tax (RETT) by 1 percent to benefit the city's Housing Opportunity Fund; the council hopes to raise $10 million a year to contribute to affordable housing. (A real-estate transfer tax is a one-time fee, calculated as a percentage of the overall sale prices. It's part of closing costs and is typically split between buyer and seller.)

Lavelle says affordable housing has been an issue for several years in Pittsburgh, but ever since the announced evictions at East Liberty's Penn Plaza in June 2015, city officials have increased urgency to act.
"We have already openly acknowledged a shortage of affordable housing, and acknowledged a lack of investment in certain neighborhoods," says Lavelle. "At some point, you have to take action if you honestly say you believe in this."
City council created the Housing Opportunity Fund last year, but has yet to figure out exactly how best to fund it. Lavelle says that's because Pittsburgh is limited in how it can raise revenue. Some options, like a hotel tax or a tiered real-estate tax, require state authorization, and the Republican-controlled state legislature is unlikely to grant Pittsburgh extra powers to raise taxes.
Lavelle is proposing the city's Urban Redevelopment Authority take out a $100 million bond, which will be repaid by revenue from the RETT-increase. That way, the city can immediately create affordable-housing programs, such as building new affordable units in expensive neighborhoods or rehabbing homes in low-investment areas.
Realtors Association of Metropolitan Pittsburgh President Charlene Haislip says a RETT increase will lead to fewer home purchases in the city and will hurt homebuyers looking for affordable homes, possibly pushing buyers beyond city limits.
"The most affordable homes are coincidentally right on the border of the city," says Haislip.
There are many documented instances of how high property taxes lead people to purchase homes outside of cities, but it's still unclear how exactly an increased RETT would affect the real-estate market. A Brown University study showed the 2008 creation of a 1.1 percent transfer tax in Toronto "caused a 15 percent decline in the number of sales and a decline in housing prices about equal to the tax." However, a 2015 George Washington Institute on Public Policy study of Connecticut's realty-transfer tax landscape said "higher local [transfer-tax] rates in targeted investment communities do not significantly impact on the price of real estate or the number of transactions."
Haislip says a RETT increase isn't necessary and wants Pittsburgh to modernize its real-estate department and make it easier to sell the 20,000 units of city-owned property. She says the current process to purchase city-owned land is complicated, especially for first-time homebuyers. By applying the same techniques and resources real-estate agents use to sell private property, the city can sell its units quickly and inexpensively to low-income homebuyers, she says. To maintain affordability on those city-sold properties, Haislip says Pittsburgh can attach deed restrictions, requiring owners to maintain affordable rents and avoid flipping the property for profit for a 15-year time period.
The public-policy experts at Pittsburgh Community Reinvestment Group are also concerned that a RETT increase will negatively affect buyers looking for affordable homes.
"There is a risk of burdening homeowners," says PCRG Director Ernie Hogan. "We don't want to put this on the backs of people buying and selling homes."
For example, statistics compiled by PCRG show the average home loan in Manchester, a North Side neighborhood in need of increased investment, is $128,000. With the proposed RETT increase, a homebuyer there would pay an extra $1,280 in upfront costs.
But Councilor Lavelle says low-income residents buying a $50,000 home in Perry North can benefit from the Housing Opportunity Fund. Lavelle says most homes in affordable neighborhoods like Perry North are that way because they often need to be rehabbed, and he says the fund can help cover those costs for homebuyers.
Hogan says one revenue stream is not enough to fix Pittsburgh's affordable-housing problems. PCRG is suggesting a suite of solutions: a small increase to the city's property-tax rate, a small RETT increase, a contribution from the city's general fund, and contributions from Pittsburgh's foundation community.
Lavelle acknowledges the city could draw on its $37 million surplus, which would encourage nonprofits to contribute. But he worries the surplus could be a "one-time" gain, and he says it is better used to tackle pressing infrastructure problems.
Additionally, Hogan says the city can alter its zoning and tax-abatement laws and attach affordable-housing requirements when allowing new development.
"How do we come collectively together, to have an affordable-housing plan that doesn't hurt thereal-estate market? We want that," says Hogan.
But Hogan also recognizes that policy experts, who already suggested many of these fixes last year, might have underestimated the urgency felt by residents, advocates and city officials.
"We had a lot of smart people come up with solutions, but then we went back to our sandboxes," says Hogan. "Maybe we should have said, 'Let's get back together and talk about this.'"
Celeste Scott, of housing advocacy group Pittsburgh United, knows about this situation all too well. Scott says the group gathered 14,000 signatures in support of placing a RETT increase on the November 2016 ballot, but the effort was dropped in support of city council's RETT efforts.
"It was significant; it was people from every district," says Scott, of the public RETT support.
Scott believes the RETT increase would mostly affect developers and homebuyers who can afford the extra costs.
But Pittsburgh City Paper looked at 30 property transfers occurring the last week in April 2017, and an easy answer as to who would be most affected didn't emerge. Sixteen properties were purchased by individuals with a history of buying, selling and rehabbing homes, and five of those were sold for more than $320,000.
However, a handful of homes were purchased by buyers that a RETT increase might have an outsized effect on. Eight first-time buyers bought non-rehabbed homes near the edge of the city, and the purchase price for each was less than $150,000.
A public hearing for the proposed RETT increase is forthcoming, although no date has been set. Scott emphasizes there's little time for council to deliberate. "It's a crisis for so many people," says Scott. "There is an urgency to get it done."