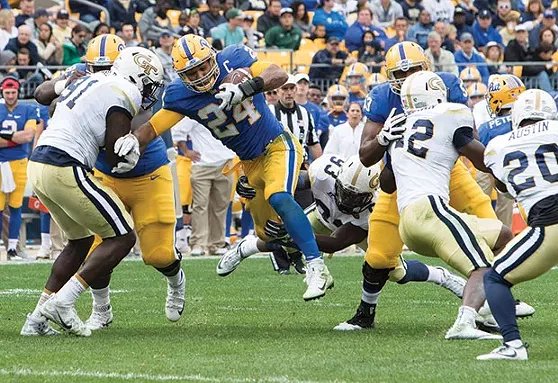 What a year in sports for the city of Pittsburgh. From bringing home the Stanley Cup to resurging rivalries and inspirational comebacks, 2016 had a little bit of everything, including utter disappointment. Thanks, Pirates.
When you've reached the zenith of your sport, like the Penguins did in 2016, it's hard to place any moment above that. And when City Paper asked some of the city's sports-media personalities for their top sports moments, they all agreed that the Penguins hoisting Lord Stanley's fabled Cup sits atop the mountain of 2016 moments.
Bob Pompeani, of KDKA TV, says the Pens' story was great because they were out of playoff contention and then … magic. "GM Jim Rutherford made a gutsy call, fired his own hire in Mike Johnston, promoted Mike Sullivan and the team caught fire," Pompeani says. Jim Colony, of the 93.7 The Fan Morning Show, says the litany of roster moves, via trades and the pilfering of their minor-league franchise in Wilkes-Barre, created the right mix of veterans and youth. "The recall of Matt Murray and his ascent to No. 1 goalie status ending up fueling their run," Colony says.
However, one story that was huge, not just in Pittsburgh, but across the country was that of University of Pittsburgh running back James Conner. Conner returned to the field after surviving cancer, to inspire his team to one of the best seasons in recent memory. Pittsburgh Post-Gazette sports columnist and 93.7 The Fan host Paul Zeise says Conner's "first touchdown of the season was the moment of the year."
Here are others that also garnered attention:
The Pitt-Penn State football game. The battle for Pennsylvania raged for the first time since 2000. "There's just something special about walking through the parking lots and seeing all the fans tailgating together," says Zeise. Even better, the Panthers held on to win 42-39.
The Steelers rob Cincinnati of their first postseason win since Houston was home to the Oilers. WPXI's Alby Oxenreiter calls this an "epic playoff game," which ended up having a hand in the Steelers' chances at a seventh Super Bowl. The Vontaze Burfict head shot to Antonio Brown not only put the win in motion, but also sidelined the dynamic receiver for the loss in Denver a week later.
Three defensive rookies making an impact for the Steelers. Pompeani says this story is still gaining steam, but the 2016 draft has paid dividends on defense. "For the first time since 1971, three draft picks have turned into defensive starters," he says. "Nobody expected that kind of development in year one."