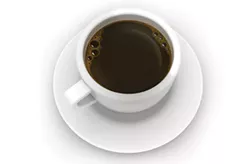 As far as Phil Johnson is concerned, there's really only one goal for this year's Pittsburgh Specialty Coffee Week, slated for Oct. 19-25: exposure.
"This event is about building a community and getting people aware of the specialty-coffee industry," says Johnson, roaster and buyer for Commonplace Coffee Company, which has several local locations. "There are not a lot of people talking about specialty coffee, and we want to foster that culture and hopefully expand the reach of specialty coffee and all the exciting things you can do with it."
According to Johnson, specialty coffee is an "industry term," with products rated on a scale by the Specialty Coffee Association of America. Starbucks is a brand of specialty coffee that everyone knows, but the goal of the week is to highlight local purveyors.
"Specialty coffee is more than just a latte," Johnson says. "There are a lot of things that go into creating this cup of coffee, and the programming during the week will allow people to learn as much as you want to about the process. … We try to do justice and honor to the entire supply chain, from the grower to the roaster to the barista who prepares your cup of coffee."
Unlike other products, the handling of coffee from farm to cup can greatly affect the end product.
"Take wine, for instance," Johnson says. "A vineyard grows its grapes, makes its wine, bottles it up and ships out a finished product. They have complete control over the quality. But coffee has each of these distinct parts, and if it gets screwed up at any level, the quality can suffer."
In addition to Commonplace, other venues participating in Specialty Coffee Week are: 4121 Main, in Bloomfield; KLVN Coffee Lab, in Munhall; 21st Street Coffee, in the Strip District; Constellation Coffee and Espresso a Mano, both in Lawrenceville; Café d'Amore, in the Strip and Lawrenceville; and Tazza d'Oro, in Highland Park.
Johnson says events range from espresso-tastings and a home-brewing workshop to a lecture and Q&A session providing insights on the steps it takes to get coffee from the grower's farm to the cup. There will also be a competition between local latte artists and even a "worst cup of coffee" contest. For a complete list of events go to www.pghcoffeeweek.com.