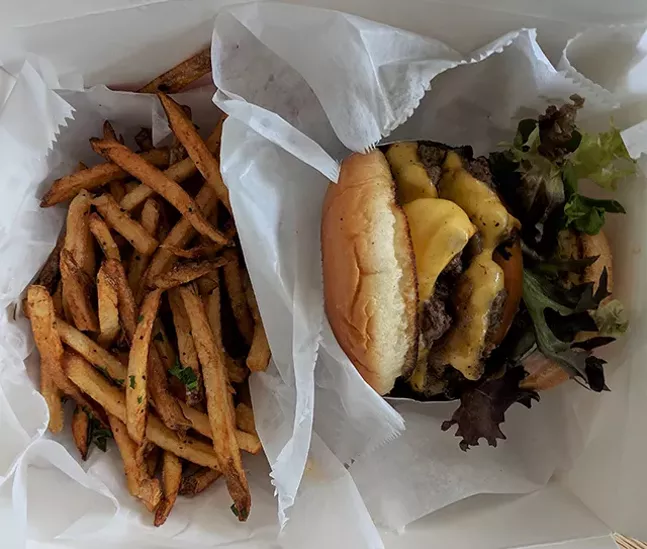 Sandwiches have always been an integral part of Pittsburgh cuisine, thanks to Joe Primanti and his Strip District cart. Primanti started wheeling out his slaw-topped goods in the 1930s, beginning the city's decade-long sandwich obsession. Today, the love affair is crowned by a modest food truck that slaps together some of the city's best.

The Pittsburgh Sandwich Society has a strong fan base, and for good reason. Sandwich groupies have been tracking down the truck since 2016. It's led by chef Michael Carney and co-owner Erin Andrzejewski, who churn out food regularly listed in the high ranks of city sammies, most notably their take on the famed In-N-Out burger (the "in-n-aht burger").
Take Aht!, Carney and Andrzejewski's grab-n-go spot in Lawrenceville, opened in May 2018, overtaking the space once occupied by Kaleidoscope Cafe. The truck is still active, but Take Aht! provides a consistent, stationary lunch service catering to larger orders and delivery services.
The menu at Take Aht! mirrors its mobile counterpart, adding a few on-location specials now and then. A mix of sandwiches appear on the bill, including classics like a grilled chicken club or a veggie burger, and twists on Nashville hot chicken (PGH hot chicken).
When I arrived at Take Aht!, the building was still decorated with a labyrinth of murals from Kaleidoscope. Two sandwiches made the cut — the in-n-aht and the chopped cheese — along with a side of shoestring fries.
The moment I unboxed my burger, I knew my in-n-aht was something worth swooning over. It was the made-for-tv version of a sandwich, camera-ready to star in a drive-through ad. Ingredients were fresh and crispy; the double patty elevated with a tang of onion jam and thick pickles. The Society nailed its butter toasted bread, a smart boundary to keep soggy buns at bay.
Chopped cheese, contrary to my assumption, was not a cheesesteak but more of a cheeseburger-sub married to a deli-style hoagie. The minced hamburger bonded with melted American cheese and lightened with the shaved iceberg, thick tomatoes, and a spicy pepper spread that topped it.
Sides are not to be overlooked. Fries matched my main dishes perfectly: thin, crispy, and doused with salt. They were the type of fry that starts out crispy, collapses in the middle, and ends with a crunch. Nothing fancy, just a simple partner for simple sandwiches.

The Pittsburgh Sandwich Society truck is still rolling down city streets, hitting breweries and festivals. But thankfully, Take Aht! gives the city constant access to a sandwich fix which — trust me on this— after one bite of the in-n-aht, you'll be craving it daily.
Favorite Features

1. Pittsburguese

The Pittsburgh Sandwich Society leans heavily into Pittsburghuese, laying on the accent when they're parked "dahntahn" or "sold aht."

2. Brunch

Keep an eye out for the society's delicious brunch creations, like a breakfast burrito or egg and pork belly sammie.

3. Winston's Crunchy Society

Walking your dog? Not a problem. In addition to a people-friendly menu, the society offers a dog-friendly menu! Treat your pooch to a peanut butter and milk bone sandwich, topped off with some bark-b-q.