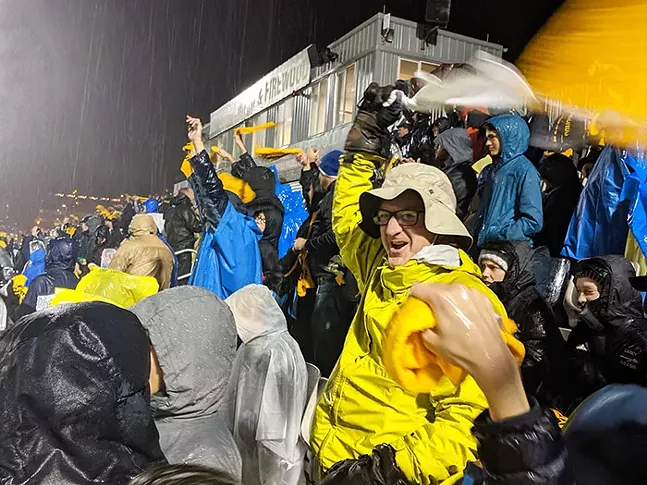 In a tumultuous time for Pittsburgh sports, there is one team still holding down the "City of Champions" title: The
Pittsburgh Riverhounds SC
, whose winning season recently earned them the title of 2019 Eastern Conference Regular Season Champions and landed them a top spot in this year's United Soccer League (USL) playoffs.
This season has marked the 20th anniversary for Pittsburgh's professional soccer team, led for the second year in a row by head coach Bob Lilley, and the team is looking better than it ever has before. Last Saturday, as pouring rain drenched Highmark Stadium for game one of the USL playoffs, soaking wet fans cheered as the Hounds destroyed Birmingham Legion FC 7-0.
After Allegheny County Executive Rich Fitzgerald presented the game ball, and Pittsburgh Penguins' favorite Jeff Jimerson sang the National Anthem, fans waved bright gold "Unleash the Playoffs" rally towels, The Riverhounds' equivalent of Pittsburgh's favorite Terrible Towel. The Steel Army, the team's dedicated supporters group, banged their drums and set off smoke bombs that yes, worked even in the rain.
Elsewhere in Pittsburgh, the Pittsburgh Penguins are currently only fourth in the Metropolitan Division following multiple injuries, including one to Evgeni Malkin who is finally expected to return to the ice this weekend after being out for weeks with an undisclosed lower-body injury. The Pittsburgh Steelers have also started off the season poorly, winning only three games out of seven so far this year. (It's probably best not to even mention the Pittsburgh Pirates.)
This Saturday, the Hounds face last year's defending USL Champions Louisville City FC, currently the no. 4 seed in this year's conference.
Last weekend, after the Riverhounds defeated Birmingham and secured the team's second playoff game, Pittsburgh Mayor Bill Peduto tweeted to Louisville mayor Greg Fischer: "Congratulations to our very own Hounds. Hey Mayor @lousvillemayor
- next weekend. Our House. Whatcha want to bet???"
Our @loucityfc is always a good bet — you're on! I'll wager a selection of Louisville's one-of-kind bourbonism scene. How about you?

— Mayor Greg Fischer (@louisvillemayor) October 27, 2019
Still no word from the Mayor on his wager, maybe because he's confident the team will win. (The mayor's office did not respond to inquiries, but if he's still looking for a suggestion, might we suggest offering up the current Pirates roster?)
If you want to show your support for Pittsburgh sports this weekend, skip the Pens and Steelers, and take your black and gold to the stadium with one of the best views in town at 7 p.m. on
Sat., Nov. 2
, as the Hounds face Louisville in what promises to be another exciting game. And for those fans still thawing from last weekend's downpour, take note: There's currently only a 10 percent chance of rain.