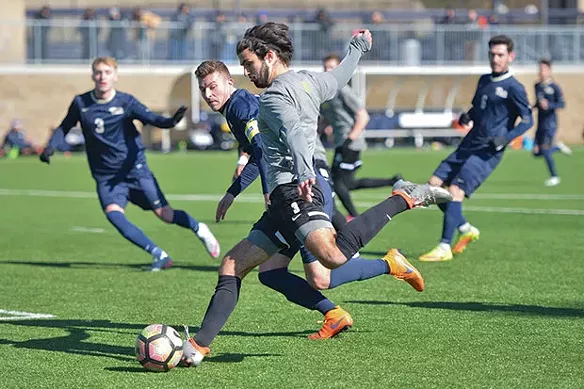 In a city full of fans obsessed with the Steelers, Pirates and Penguins, it's hard for other professional sports to get attention.
Dave Brandt, head coach of the Pittsburgh Riverhounds, the city's professional soccer franchise, knows this but he's not making excuses.
"The burden is on us, it's not on Pittsburghers," says Brandt. "If pro soccer is worth watching, people will come; if not, they won't. If we are worth watching, they will come watch."
And this year, Brandt says, the Hounds will be worth the price of admission, even if last season was one to forget. In 2016, the Riverhounds finished second-to-last in their division of the United Soccer League, a second-tier professional league with 29 teams playing in North America. Brandt was brought on midseason, made changes to the roster and playing style, and is confident the Hounds will bring more consistent excitement to Highmark Stadium this season.
"I have got super-high hopes," says Brandt. "It's a very new team, but there needed to be change. We've adopted an aggressive and up-tempo style. It's gonna be a very aggressive, counter-attacking style. We are excited to play and we will be exciting to watch."
Leading that counter-attack style will be forward Corey Hertzog. The Hounds striker scored 13 goals in 2016 (fifth best in the league). Brandt also says the Riverhounds will be solid on the back line (for soccer newbies, that's "defense"), and will channel the ball to scorers like Hertzog.
John Krysinsky, who curates the Pittsburgh Soccer Report blog and reports on the Riverhounds, feels that if the Hounds have solid midfielders this season, they have an outside shot of competing for a playoff spot. Riverhounds captain and longtime favorite Kevin Kerr will head the midfield effort.
"They do have a lot of talent in the middle and upfront," says Krysinsky. "I'm not sure if it is enough to be at the top of the table, but if they are battling for a playoff spot, that will be a good season."
Regardless of how the Riverhounds finish, Gary Smith says attending soccer matches at Highmark is a unique sporting experience. Smith is part of the Steel Army, the Hounds' official fan club, and says Highmark offers an exciting vibe, plus $5 beers and great views of the Pittsburgh skyline.
"Nothing beats the live atmosphere," says Smith. "We have nonstop drum-banging and flag-waving. We will stand the entire game. If you tried that at a Pens game, they would yell at you to sit down."
The Riverhounds open the season on March 25, at Highmark Stadium, against defending USL champions the New York Red Bulls II. Tickets range from $13-22 and can be purchased at www.riverhounds.com.