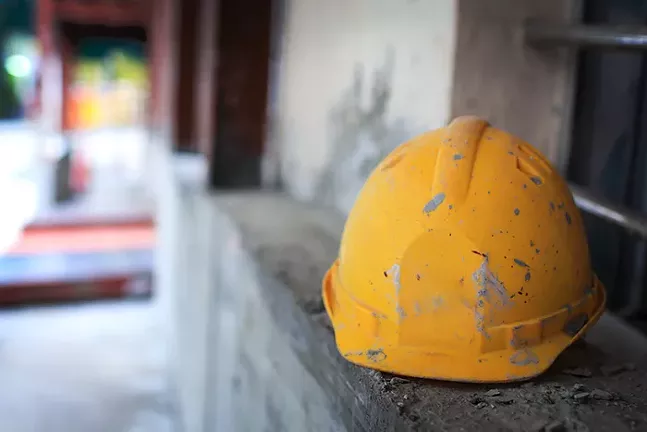 Over the last couple decades, Pittsburgh has recovered economically from the collapse of the regional steel industry. Cities like Pittsburgh have moved out of financial bankruptcy, and the region has seen significant growth in the
tech industry and corporate headquarter jobs
.
But the region's once robust manufacturing sector has not recovered. In fact, new data from the U.S. Bureau of Labor Statistics shows manufacturing employment in the Pittsburgh metro area dropped below 7%, its lowest point in the modern era, and possibly ever.
Lest I be accused of hyperbole... I suppose I should caveat that by saying the 7% manufacturing employment is the lowest % in the 'modern' era, very broadly defined.. but surely lowest since Lord Dunmore's War buffeted the region.

— chris briem (@chrisbriem) November 20, 2019
This drop has been precipitous, and the loss of manufacturing jobs is significant. The region now employs about 83,000 people in manufacturing. According to University of Pittsburgh economist Chris Briem, peak manufacturing employment in the Pittsburgh metro area was about 382,000 jobs.
That equates to a decline of more than 78% in Pittsburgh manufacturing jobs since their peak in the 1950s. And so far, there are little signs of reversing this trend.
A recently published
report from the Journal of Urban Affairs
details how Pittsburgh has recovered economically since the Great Recession of 2008. The largest section of growth came from "super creative core" jobs, which include executives, administrators, and managers related to a professional specialty. More than 26,000 of these positions were created from 2009-2016. A large amount of these positions in Pittsburgh are in the tech industry, which locally includes robotics, artificial intelligence,
driverless cars
, and apps.
Over the same post-recession time period, Pittsburgh lost 10,000 manufacturing jobs. Jobs in natural-gas drilling, aka fracking, stemmed some of these "working class" losses, but even as natural-gas production has exploded in the region, only 7,000 fracking jobs were added from 2009-2016.
When natural-gas drilling started to produce large quantities of gas in 2012, boosters promised the industry would lead to the renaissance of manufacturing in the Pittsburgh region. Range Resources, a Texas-based energy company, currently has
960 active fracking wells
in Pennsylvania. An October 2012 commercial (shown below) from the company says Pittsburgh is the place "where manufacturing will become American again" and ends with the tagline, "Drilling is just the beginning."
Since October 2012, the Pittsburgh region has lost about 6,900 manufacturing jobs. Range Resources has also recently been
selling off several assets it owns
in the Pittsburgh region.
Proponents of the petrochemical industry, like Gov.
Tom Wolf
(D-York), Allegheny County Executive
Rich Fitzgerald
(D-Squirrel Hill), and House Speaker Mike Turzai (R-Marshall), believe that cracker plants will lead to increases in plastic manufacturers. Cracker plants, like the one currently under construction in Beaver County, refine natural-gas into plastic pellets.
But growth in the petrochemical industry isn't a sure bet for significant growth in local manufacturing employment. Louisiana has seen a glut of cracker plants and petrochemical facilities over the last several years in the region between Baton Rouge and New Orleans. But since 2010, the
Baton Rouge
metro area has only seen an increase of 5,600 manufacturing jobs, and the
New Orleans
metro area has lost 5,200 manufacturing jobs. Combined, both metro areas have gained 400 manufacturing jobs since 2010.
St. James Parish, LA — which is outside both metro areas — is home to several petrochemical facilities. Wages there are
$1,575 a week
, which is the second-highest in Louisiana, but overall employment there has dropped by more than 1,000 jobs since a peak in 2010. The region in between New Orleans and Baton Rouge is also known as
"cancer alley"
since the region is home to seven of the 10 census tracts with the highest cancer risk in the nation.
The irony is that across the 1980s as factory after factory closed & the region hemorrhaged jobs, the SWPA working class stuck with the party. They doubled down on support for Democrats... +Ross Perot... Dukakis did great! But by 1992 that changed. They've been leaving ever since pic.twitter.com/R8fHk1iY3t

— Lara Putnam (@lara_putnam) November 20, 2019
In the Pittsburgh area, manufacturing losses have often been blamed for a political shift in the region. Historically, the region backed Democrats, but Republicans have made significant gains over the decades, especially outside of Allegheny County. But as local political analyst
Lara Putnam
points out, manufacturing losses occurred long before the start of a significant political shift in 1996.
Basically, the region was bleeding manufacturing jobs for a while in the '70s and '80s, but still overwhelmingly supported Democrats. It was in the 1990s when Republicans started to get more support and have been making gains ever since, mostly outside of
Allegheny County
.
Briem also pointed out on Twitter that even though the region has a growing robotics industry, the building of robots isn't actually occurring in the Pittsburgh area, either. But the jobs of the people creating the computer design of robots and other tech-related fields is growing, as is the research and development of new technologies.
News of Argo's big new investment in Pittsburgh pushed me to update and revise this figure: pic.twitter.com/fc9cA7GeR2

— chris briem (@chrisbriem) July 17, 2019