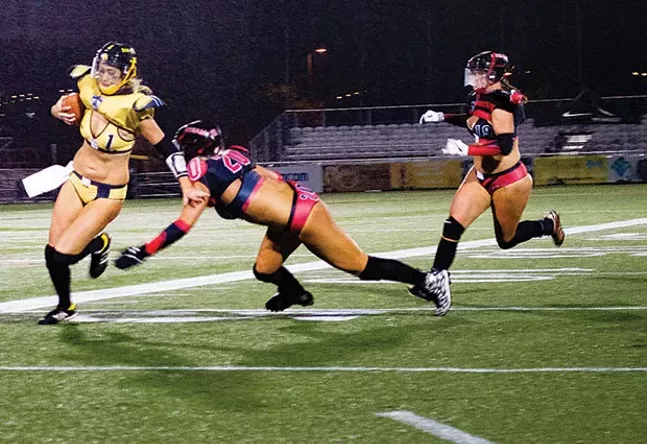 To say the least, the Pittsburgh Rebellion is not the football we're used to in Pittsburgh — full pads, no-nonsense and hard-hitting men (the Steelers and Pitt Panthers) and women (the multi-championship-winning Pittsburgh Passion).
The Rebellion is in its first season of play in the Legends Football League. You probably know it by another name, The Lingerie Football League. Lingerie football was invented as a sport in 2004, when a "Lingerie Bowl" was offered as a pay-per-view alternative to the Super Bowl halftime show. It became a 10-team league in 2009, and in 2013 the name was changed to the Legends Football League. This year there are eight teams, and the Rebellion is the newest entry. The team is 0-2 so far and will play its final home game June 10 at Highmark Stadium. For the athletes, the game is a way to play in a competitive sports league.
"I actually got into the very first season back in 2009 or so," Rebellion tight end/defensive end Tracey Willmer says. "I used to live in Tampa. I played for the Tampa Breeze for three years. I had never played football before … it was the challenge of seeing what I was capable of."
But while this is tackle football, the league has not been without its controversy — mainly, the skimpy uniforms players wear. Early uniforms were simply sports bras and lingerie-type bottoms. The only protection was a set of modified shoulder pads and a hockey helmet. This year, however, the uniforms were modified in recognition of feelings that the uniforms were exploitive.
"The uniform has been subject to a lot of discussion and at times controversy since the sport's inception in 2009," league spokesman Phillip Darnell said in a January press release. "The next major evolution of the on-field uniform has arrived, full-pants uniforms which will place more of the viewer's attention on the athlete and sport as well as providing greater safety for athletes." The Rebellion will debut the long-pants version at its final home game; the midriff-baring tops remain.
While some still have negative feelings about the league, the athletes and coaches say the sport is for real.
"This may be lingerie football, but at the same time, these girls are learning how to use all sorts of techniques," Rebellion offensive coordinator Jamont Kinds says. "They are learning quite a lot. This has everything to do with learning the game as well as technique. Every one of them is taking the time to learn the game the right way."
Adds Rebellion running back/cornerback Remy Olinzock: "I'd say this sport is very, very serious. These girls come from very athletic and very competitive backgrounds. These aren't just girls that we find by accident."
Rebellion players say they'd like fans to come out and judge for themselves.
"We can be strong, beautiful women who can play football," Willmer says. "We show people that we can play football. Most people leave a game with a different attitude than when the game started."
For more information: www.lflus.com/pittsburghrebellion