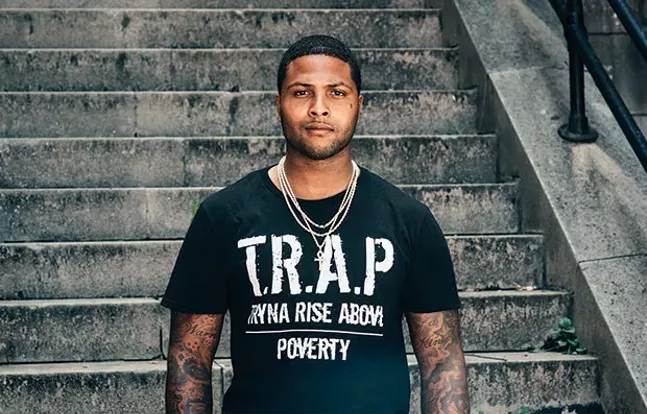 When City Paper profiled Wilkinsburg-born Hardo in a 2016 cover story, his career and life were finally getting on the right track.
A former drug dealer, he had been in and out of prison between 2011 and 2015 on drug charges and subsequent probation violations. But his rhymes and his self-made YouTube videos went viral while he was in prison.
"Here I was getting ready to go upstate, and my video was released. … I grabbed a fan base off of that and kept them because they liked what I was doing lyrically," he told CP in August 2016. "Also, I think people connected to it because I was writing about and showing them real life."
That fame, however, was just a taste of what was to come. Last fall, Hardo announced he had signed a contract with the Sony Red music label. In October, he released a video for his song, "Today's a Good Day" featuring Pittsburgh's Wiz Khalifa and Jimmy Wopo. The song is off the artist's 2016 mixtape, Trapanese.
According to hip-hop website XXL, the video was shot in both Los Angeles and Pittsburgh. "This video was for my city, for the streets in my city, for all my brothers in the Feds, Wiz, Wopo, and I stood united for the city, so today's a good day," Hardo told XXL.
On Jan. 19, Pittsburgh fans will get a chance to see Hardo live in action at Lawrenceville's Spirit Hall. Opening will be Trapway Kizzl, ASCO100K, Stunna2Fly, FTR Drama and DJ Spillz. In addition to the concert, there will be a pre-show meet-and-greet.