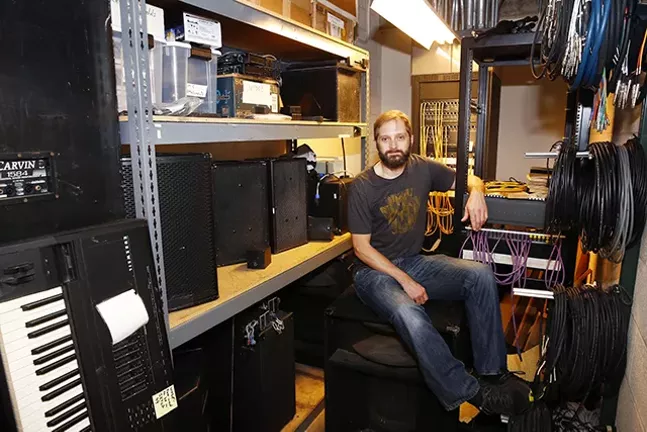 Name: Zach Moore, Mount Washington
Work: Sound engineer for Pittsburgh Public Theater; freelance sound designer
What do you do?

The sound designer is responsible for creating the audible experience for the audience, from sound effects to music to highlighting mood. The sound engineer's job is to implement that design into practical terms — put loudspeakers in place, connect systems together, get microphones ready. Everything for the designer to implement their design into the system they need.
What I used to tell my grandmother is, "Everything you hear in a movie, somebody's in charge of." I do that for theater.
Where do you begin?
Script analysis to figure out what the playwright is trying to convey. To tell the story in a way that makes sense to the audience. Ongoing conversation with the director to figure out what might help convey the emotion of the scene or what might be in the way. The actors still need to be the ones that tell the story. We want to support that rather than take over.
Then look at the music itself. You sit there and listen to hundreds of songs — sometimes not even for use in the show, but to get an idea of what is out there and where you can go with it. If you're dealing with a specific time frame or genre, you need to investigate more.
How do you approach research?

Start with a keyword about a style or genre or mood. You get down that rabbit hole and see where it steers you.
Can you apply research from one show to another set in a similar time and place?

You start over every time, give every show its due diligence.
How'd you get started?

I played music my whole life, mostly metal and punk. I did tech theater and was doing intern work at the Public in high school. The year after I graduated, I started working freelance. Then when the position opened at the Public, I went for it — have now been there 22 years. I always had an interest in sound, experimenting, trying things out, but did the majority of training on the job. I brought what I knew, but learned so much more with how theater works, how systems work, how you can achieve certain results by doing things a certain way or how you can experiment to get new results.
How does your interest and participation in music outside of work intersect with what you do on the job?

I like music that feels original. I don't like music that feels rehashed. I've always taken that approach with music I've written or been part of; with shows, I want it to feel different as much as you can, without forcing it.
Is there a style or era of music you prefer?

I think that there's a nostalgia that comes along with songs from the '20s or '30s that always draws you in when you hear it. You've got the quality of the recordings, and the scratchy records, the Victrolas, and wax rolls. It has a sound to it that immediately takes you there.
Do you have a favorite project?

One of the most rewarding was Equus. Such a good time working on it and such an interesting and weird play. I really had fun writing the music and felt I contributed a lot to the overall product onstage.
You're also writing music?

I did for A Doll's House Part Two and also wrote the music last season for Hamlet and Equus. I have seven or eight composition credits.
Do you have a dream show you'd love to do?

I've been pushing for Little Shop of Horrors for many years, and we're finally doing it next season.