Walking into Inventionland — a business incubator in O'Hara Township that's part office space, part maker space — is like walking into a Disney theme park or Willy Wonka's Chocolate Factory. There's a tree house, knights in shining armor, human-sized sweets and a whole lot of futuristic-looking technology.
"We built Inventionland around the question of 'how do we make work fun' and to create a better immersive environment," says Inventionland founder George Davison. "I'd rather go to work in this environment than go to work in cubes every day. Immersive, creative environments work. We've proven that here."
Inventionland is also the setting for a new Science Channel television show, Tomorrow's World Today. Premiering in May, the show will focus on the innovation process and highlight those that already exist in our everyday lives.
"We knew we wanted to shape a story for the audience around innovation," Davison says. "The process of creation is exposed in the show. Failing your way forward in innovation is shown in the show. How to think differently, so you can innovate and make things better than those who came before you, is also shown. If we empower the art of creation with our youth, they will out-innovate us."
Hosted by Davison, the show will also highlight his plans to build a "Park of the Future" in Pittsburgh. Inspired by Inventionland, Davison says a real-life theme park could be completed within a decade.
The show also features Emmy award-winning writer and actress Tamara Krinksy, who will serve as the show's discovery reporter and is currently Marvel's West Coast correspondent. In Tomorrow's World Today, she'll travel the world in search of innovative pioneers who are creating new sustainable ways to harness the power of the earth's natural and technological resources.
"That's an important part of this. Yes, it's about technology, but there are people behind the technology," Davison says. "You'll hear from these people who have worked their whole lives to make a contribution to their area of science."
The Pittsburgh-produced show is a remake of the 1980s classic BBC series Tomorrow's World. That show introduced the world to CDs, laser eye surgery and touch-screen technology, all innovations taken for granted today.
The first episode of the reboot will feature local institutions like Phipps Conservatory and Botanical Garden, and Haine Elementary School in Cranberry. Subsequent episodes will feature PNC Bank, Cheniere Energy, NASA and Gildan.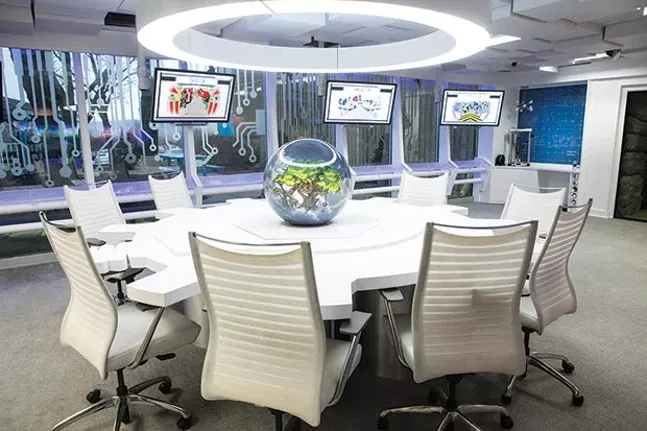 And like any engaging children's program, there's a lovable cartoon character: Chipper Cloud. Chipper is Inventionland's mascot, who represents creativity, positivity and the power of imagination.
But the show has plenty for adults as well. Chipper's foil character, Stormy Cloud, represents the negative voice, whether external or internal, that stands in the way of progress. It's a character frequently found in office buildings around the world.
"In your life, have you ever had anybody acting like a nemesis? That's Stormy," says Davison. "Everybody has these Stormy characters. And in the world of innovation, one of the largest challenges are these Stormy characters. They slow down the pace of innovation."
This isn't Davison's first time experimenting with television. He's had a few short pieces on the Lifetime Channel and a special on the History Channel. But the theme of innovation has been at the center of all of his endeavors.
And it's not just the theme of his television shows; encouraging innovation is Davison's life's work. Inventionland has played a role in producing more than 300 inventions. Many of them hang on a rotating conveyor belt that traverses the 60,000-square-foot space as a constant reminder of what's possible.
"As more and more of our manufacturing jobs are outsourced overseas, I get very nervous. Because the art of innovation and manufacturing could be lost. That gets my blood going," says Davison. "I'm all about making sure our country maintains our position as a leader in innovation. As we keep moving more and more stuff overseas, our children won't have the opportunity to see that."
He adds: "We're trying to bring back that moment when you're young, laying on your back, looking up at the stars or the clouds, and thinking, dreaming or wondering what could be."