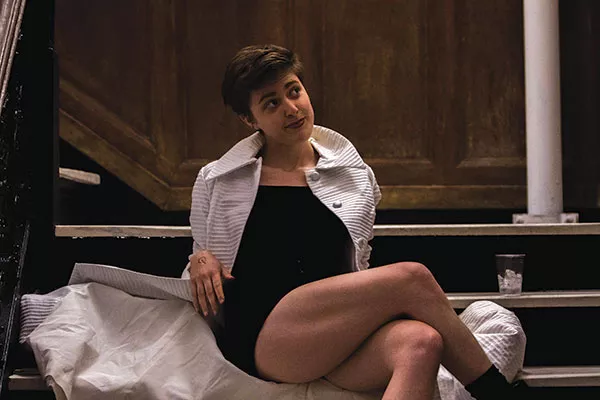 Roberta Guido
Pride means taking pride in who you are and not being afraid. I think there are a lot of underserved populations in the LGBT community, and this event is for them. I'm here to support my friends, but I also feel more comfortable in this community than I do anywhere else. I'd say I feel bisexual and queer, but I don't usually label myself. I don't like labels, but I also think identifying yourself is important in this day and age for making a statement.
Alistair McQueen
It's a celebration of everything. It's a celebration of who you are, and being proud of who you are. I think it's really important in smaller communities, other countries. You talk about over in Ukraine, Russia [or] even just last night there was murder in Orlando at a gay bar. It's really important, as a community, to stick together and have each other's backs. And to also fight back against all the people who don't like us because of who we might have sex with.
Trevor Miles
Pride is freedom. Pride is knowing who you are and being confident in who you are. There are so many stereotypes about our community, but we are doctors, we are lawyers, we are like everyone else. Coming to events like this makes you feel like you're at home. Straight people are able to walk through life unnoticed, without all the stares. We can't always [do that], so [it's] important for us to have confidants who understand that experience.
Gregory Olverson
What brings me to Pride today is being an open-minded straight person who wants to share love and understanding with those who are transgender, gay and bisexual — no matter what their persuasion. The church that I go to encourages that, and it's something I've been a part of for many years. Pride means pride in yourself — pride in the fact that you're a living human being. Pride that you have survived most of the bad stuff; you're getting into the good stuff; you've come through it all.
Aliya Sims
Pride means being comfortable in your skin and not giving a fuck what anybody thinks. For a while I didn't even know I was pansexual. My friends were actually the ones who pointed it out to me. I finally came out to my mom when I was in high school. She wasn't hateful but I could tell she wasn't comfortable with it. She wants me to be happy, but she says she doesn't know if it's "right."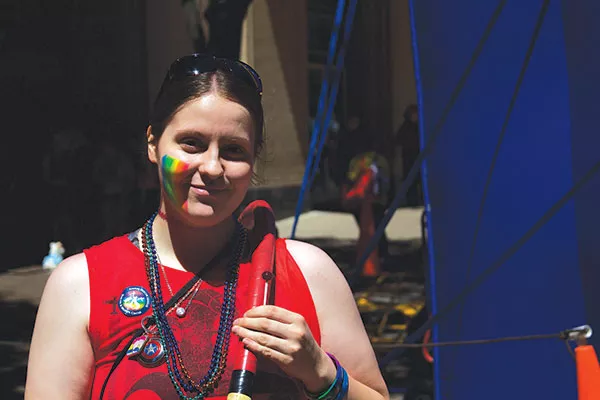 Kylie Smith
I'm pansexual and it's fun to get out there. In your everyday life you don't get to really be out and open, and not everyone is out, so it's fun and freeing. The only annoying thing is the protesters, but they're kept far away. I at least saw them during the parade, but last year there were more of them, I think. I like [Pride]. I think it's great.
Lorraine Starsky
I have been a long supporter of the gay-rights movement. I started marching in gay pride 31 years ago in Cincinnati, Ohio. I brought my son, who was in a stroller, he was just a little tyke. And you know, back then it was not popular, it was not trendy. To march — to be open and march in a Pride event was a big deal. People were victimized, and I felt as an ally that I needed to express my support, and I have been a vigorous supporter of the gay movement ever since. Because I feel like what they want is what all of us should have. And that is the right to live without being harassed and to love without any shame.