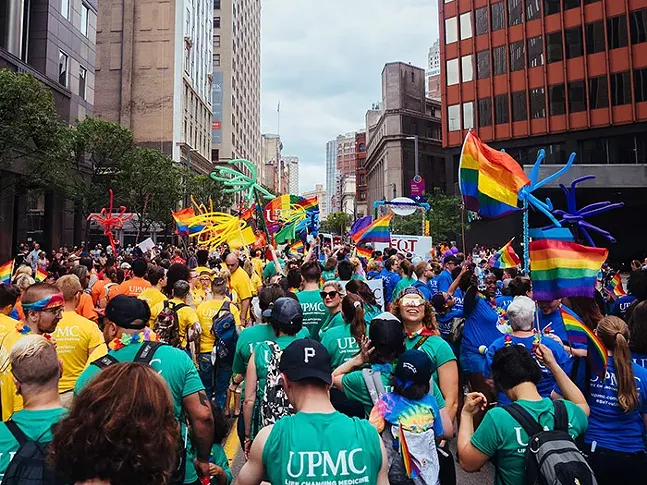 Pennsylvania's largest LGBTQ Pride celebration has grown so much that it's getting a new, bigger location. For years,
Pittsburgh Pride
was held on Downtown streets, and last year's festival even over took the Andy Warhol Bridge.
But in 2020, the Delta Foundation of Pittsburgh, which runs Pride, announced the festival will be moving to Point State Park. Delta President Gary Van Horn also announced the date of Pride, which is usually held in June, is also changing. The 2020 festival will be held July 17-19.
In a press release, Van Horn said the large crowd size of previous festivals led to the decision to change locations and that Delta worked closely with Gov.
Tom Wolf
(D-York), state Sens.
Jay Costa
(D-Forest Hills) and Wayne Fontana (D-Brookline), and the state's Department of Conservation & Natural Resources to coordinate the use of Point State Park. Pittsburgh Pride will also utilize Penn and Liberty avenues between Stanwix Street and Commonwealth Place.
We're excited to announce that Pittsburgh Pride 2020 will be held July 17-19! #lgbt #lgbtqpride @ Point State Park https://t.co/mXjMcaervO

— Delta Foundation Pgh (@deltafoundation) October 29, 2019
The move from June to July avoids conflicts with other large Downtown cultural events, such as the Three Rivers Arts Festival and the city's Juneteenth Celebration. In recent years, Pittsburgh Pride has also been met with other alternative Pride Festivals in the city, including
People's Pride
, which occurs in June, and
Pittsburgh Black Pride
, which takes place at the end of July.
The July dates for Pittsburgh Pride also avoid overlapping with other popular Pride festivals throughout the U.S., many of which occur during June, which is celebrated nationally as LGBTQ Pride Month. Van Horn says moving Pittsburgh Pride to July will help attract more tourists to attend Pittsburgh Pride, even if that means losing the timely association with the anniversary of the Stonewall Uprising which occurred from June 28-July 3,1969.
"Prides happen throughout the year," said Van Horn in a press release. "Shifting Pittsburgh Pride to July means we are no longer in conflict with Philly Pride, Boston Pride, LA Pride, and Capital Pride in Washington DC for attendees, speakers, and entertainers. We are working closely with our partners at VisitPITTSBURGH to reach out to those cities to invite people to come and enjoy a terrific weekend around Pride and in a welcoming and inclusive city."
The 2019 Pittsburgh Pride attracted more than 250,000 people, according the city official estimates, and the Pride Parade is now considered the city's biggest annual parade.
Wolf said in a press release: "We are excited to host Pittsburgh Pride and the Delta Foundation in Pittsburgh's 'crown jewel' — Point State Park — and look forward to yet another successful event for the LGBTQ community and its allies."
The 2020 Pride will include
PrideFest
, a free festival with vendor booths, a children's activity area, food booths, and local and regional entertainment, and the parade which will run on July 19 along a new route from Liberty Avenue in the Strip District down to Point State Park.
More details about Pittsburgh Pride will be announced closer to the event.