The hunt is on. Right now Pittsburghers are searching for a time capsule buried somewhere in the City-County Building when it was constructed, a century ago. The building was commissioned by then-mayor Joseph Armstrong to commemorate Pittsburgh's centennial.
"We're not so desperate that we've called in Geraldo [Rivera] to look for it yet," quips Andy Masich, president and CEO of the Senator John Heinz History Center. "But we've even considered calling in the bomb squad to use their metal-detecting equipment because we believe it's buried inside one of the columns in the City-County Building."
The search for the time capsule is just one of the many activities taking place this year to commemorate Pittsburgh's 200th birthday.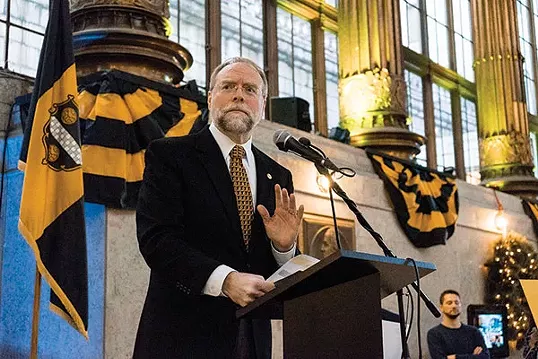 This year's celebration is distinct from the 250-year anniversary the city commemorated in 2008. That anniversary marked the construction of Fort Pitt in 1758, whereas the bicentennial will celebrate the year Pittsburgh officially became a city and received the right to local elections and self-governance.
And knowing this distinction and learning more about the history of Pittsburgh is what the bicentennial is all about.
"Not knowing your history is like having amnesia," says Masich, who was chosen as chairman of the volunteer Bicentennial Commission. "A city needs to know its history if it's going to make good decisions in the present and plans for the future. And that relates to every aspect of our lives, whether that's transportation decisions, housing decisions, inclusiveness, race diversity. These are all things we need to understand the roots of if we're going to be effective citizens today."
One component of the year-long celebration will be highlighting interesting pieces of Pittsburgh history and trivia, such as the fact that Pittsburgh has 523 bridges, the most of any city in America. And indeed, a dedicated bridges committee is currently trying to figure out how to illuminate one of the city's bridges.
"We're not sure if we're going to be able to pull that off in one year's time. It's a pretty ambitious undertaking," says Masich. "But we are going to focus on the bridges. We love the sort of metaphor of bridges, because we're bridging both the past and the future and we're connecting neighborhoods. We're breaking the restrictions that sometimes tie us."
Events throughout the year will include a kickoff celebration on March 18, a Bicentennial Parade and a festival in Point State Park, in July. To date, more than 200 neighborhood events have been added to the bicentennial website.
"They range in scale from small, intimate neighborhood event to regional event," says Masich. "The great thing about it is, the city isn't coming up with the money to pay for all that. All of the participating groups are really contributing these programs that will have a bicentennial spin. And what it really is, is an opportunity to celebrate what's good or great about our city."
And in the end, even if the bicentennial committee isn't able to recover the time capsule from 100 years ago, this year it will create one to mark the 200-year milestone. The committee will be accepting suggestions which will be recorded and put on a microchip to be sent into outer space.
"If you were going to build a time capsule today that captured and encapsulated who we are as Pittsburghers, what would you put in there? Maybe you could have 200 things or — this is Pittsburgh for god's sake — how about 57?" says Masich, referencing the H.J. Heinz Company's traditional motto. "It would be interesting to hear the people of Pittsburgh say, 'Ya know what really gets to the heart of who we are is a Terrible Towel or a Primanti's sandwich, or a bike-lane sign.'"
Throughout the year City Paper will commemorate the bicentennial by sharing stories from the city's past and how they relate to the changes taking place today.