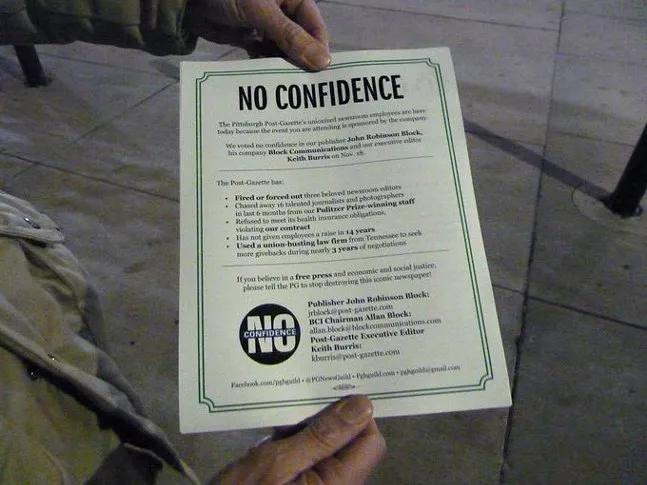 The
Pittsburgh Post-Gazette
has been without bylines for about a month.
Several
chaotic months have hit the P-G newsroom
, which included a well-documented newsroom
tirade by publisher John Block
, major editorial conflicts between reporters and management, the surprise early departure of a longtime editor, and several reporters being assigned new beats for seemingly no reason.
By Nov. 18, the Newspaper Guild of Pittsburgh had seen enough. The labor union that represents most of the
P-G
staff, announced a
vote of "no confidence"
against management and the start of a byline strike.
After more than 1,400 withheld bylines and 100% participation from the nearly 140 guild members and other non-guild staffers through Sunday, the guild announced today the byline strike will end after Tue., Dec. 17.
Guild president and longtime
P-G
reporter Michael Fuoco said in a press release that the byline strike was successful spreading the message about the mistreatment the
P-G
staffers have received from Block and
P-G
executive editor
Keith Burris
.
"What the byline strike showed in vivid detail is that we 140 journalists in the Guild are the heart and soul of this 233-year-old newspaper and without us there is no
Post-Gazette
," said Fuoco. "The sheer volume of stories, graphics, photographs, and columns without bylines has exposed that to the public and the owners noticed as well."
Guild journalists haven't had a raise in 14 years and have been locked in years-long negotiations with management on new contracts. Block Communications, which owns the
P-G
along with several other media outlets, have hired King & Ballow, a "union avoidance" law firm from Tennessee, to help negotiate with the guild.
The guild believes management is practicing an intentional strategy to make the newsroom so unbearable that guild members quit.
Since the start of this year, 20 guild members have left the
P-G
. Nine managers have either taken buyouts, been fired, or been forced out by management. Another newsroom manager will leave by the end of the year. Not many positions have been replaced.
Jon Schleuss was recently elected international president of the NewsGuild, Pittsburgh local's parent union. He said in a press release that guild members' participation in the byline strike showed the guild's solidarity and commitment to the paper and fight for a fair contract.
P-G
journalists have been without a renewed contract for more than three years.
"Total participation in the recent byline strike shows just how dedicated the workers of the
Post-Gazette
are to its long-term success," said Schleuss. "It's time for the Blocks to come to the table and work with the Guild to forge a path forward.
Burris has taken criticism from readers for some of his editorials, including one
downplaying racism
and another that was
transphobic
. Many people on social media have announced they would be canceling their
P-G
subscriptions in response.
But Fuoco is urging
P-G
readers to email management instead and share opinions about how they want the paper to change.
How can readers help? The Newspaper Guild of Pittsburgh is calling upon the public to "express its outrage" by emailing
:
• Publisher John Block:
jrblock@post-gazette.com
and
jr_block@post-gazette.com
• BCI Chairman Allan Block:
ablock@blockcommunications.com
and
ajblock@accesstoledo.com
• Executive Editor Keith Burris:
kburris@post-gazette.com
and
kburris@theblade.com