The Pittsburgh Pirates need to build a statue to honor Andrew McCutchen. Yes, I know it's unheard of to erect such a tribute to an active player, but this is a unique situation.
Statues are supposed to commemorate important moments and people. They're not only for things we want to remember, but also for things we should never forget. A 12-foot bronze sculpture of No. 22 is necessary to remind all of us what happens when you trust team owner Bob Nutting.
In 2013, the most magical season since 1979, the Pirates became a winning team and won some playoff games; all of the sins of the past 20 years were forgiven. They went back to the wildcard playoffs in 2014 and 2015, losing that game each year. But here we sit, just three years later, as hopeless, hapless and disheartened as we've ever been.
The first signs of giving up came in 2015 when the Buccos traded Neil Walker. They also failed to retain successful rehab projects like J.A. Happ and Edinson Volquez.
Now, 2018 begins with Andrew McCutchen and Gerrit Cole traded away. And other players like Josh Harrison want out if the team's not going to be a contender.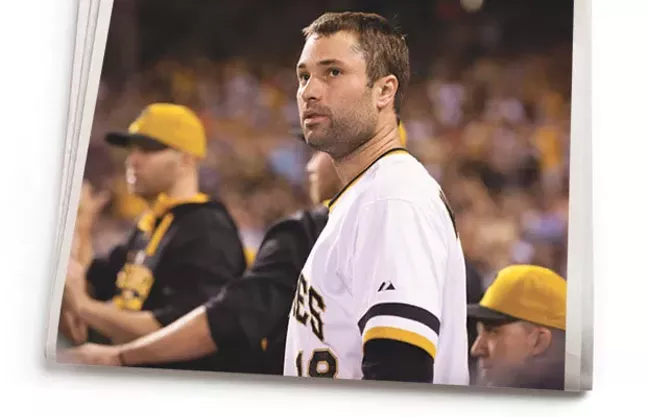 I get it — it's Bob Nutting's business to do with as he sees fit, but he's making his billions on the backs of fans who care about the team a whole lot more than he does. Forget about his ownership of Seven Springs and about 40 newspapers across the country; the Pirates alone are worth more than a billion dollars, and they're playing in a stadium paid for by the taxpayers. Their payroll was less than $100 million last season, which ranks in the bottom third of all teams and is well below the league average.
If he wanted to, Nutting could put more money into team payroll and turn this team into a consistent winner. Pittsburgh's 20-year rebuilding effort finally paid off in 2013, and it was because of players like Andrew McCutchen, Neil Walker and Pedro Alvarez — players that the franchise developed themselves.
But now I sit here wondering, why spend all that time and energy to just let those players go? McCutchen and Cole were still under contract, for crying out loud. It doesn't make sense. It's like running a steak house and serving meat that's sat in the sun for three days. If people will eat it, why actually serve a quality product?
But one of the worst offenses Nutting is committing is letting his horrible management of one business affect his others. Weirton Medical Center is the largest advertiser in the Nuttings' papers in the Upper Ohio Valley. But the medical center was so ticked about the McCutchen trade that it pulled its advertising.
In a press release, the hospital wrote: "We are doing this not to hurt our friends and colleagues working at these newspapers, but to send a message to the Nutting family that we believe in community. We hope this gesture reminds you of the importance of community. Legions of Pirates fans may not own the ball club, but we certainly feel a sense of ownership too."
It was a huge gesture, but again, one I'm sure Bob Nutting doesn't really care about. How do I know? I worked for the guy. I know what he pays his journalists; he's not concerned with them taking a hit.
Because at the end of the day, Bob Nutting is reaping the financial benefits of his decisions. It's the rest of us who will continue to pay the freight until we've finally had enough. And from the looks of things, that time may be coming soon.