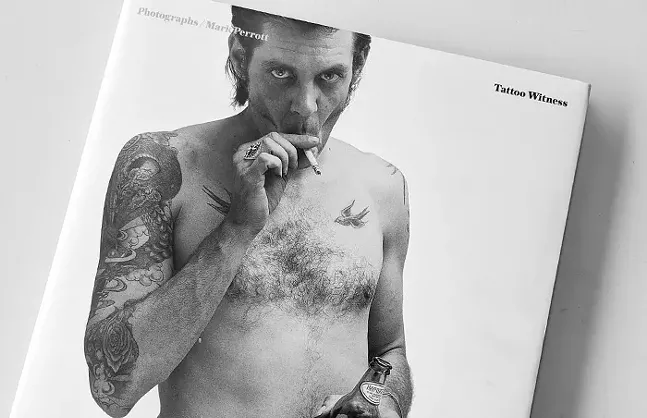 The eyes. It's the eyes that capture one's attention when first flipping through the pages of photographer Mark Perrott's newest book,
Tattoo Witness
. In a book full of black-and-white photographs of inked bodies, many of which are unclothed — tattoos circling pierced areolas and escaping from behind low waistlines — it's the eye contact with each turn of the page that sucks the reader in for the ride. The tattoos are an added bonus.
The Pittsburgh-based photographer has been taking portraits of tattoo-covered bodies for four decades, starting in 1979 in McKees Rocks at Island Avenue Tattoos. Since then, Perrott has traveled the country continuing to document decorated skin, in both tattoo parlors and more recently at tattoo conventions.
Perrott's portraits are less about the tattoos themselves and more about the people who have gone under the ink; it's almost as if his camera has captured a piece of each subject's soul. The eyes: haunting, challenging, hypnotizing. But also trusting.
Part of that can be chalked up to the fact that Perrott has traveled with an assistant who interviews the subjects he photographs: first, it was Pittsburgh writer/tattooist
Tim Azinger
, and later Pittsburgh photographer/writer
Heather Mull
. Their interviews accompany photographs throughout the book and are an incredible addition to the project.
In the book's forward, Perrott explains that he first had Mull ask the subjects questions
after
he took their portraits, but soon changed his mind. "This scenario turned out to be a BIG mistake because I had it all backwards," he writes. He explains he would "sit quietly nearby and listen to Heather's interviews" and then photograph them, a process that clearly works; portraits made even lovelier through the clear relaxation of the models in front of the camera.
Subjects are asked a series of questions. "Can you tell me about your first tattoo?" yielding by far the most interesting answers. There's a man who reveals his first tattoo was on his genitals because he didn't want his body to be completely covered in tattoos by leaving that body part last, so he got it out of the way. (Sorry, no pics of his dick, if you were hoping for one. In a book with lots of nudity, we're talking more boobs than balls.)
Even with minimal clothing on the models, it's quite fun to spot the changing styles over the years as the book progresses. Hair gets bigger, then smaller again. Studded belts get replaced by chain wallets. Facial piercings multiply. And multiply. And multiply.
And while the tattoos are sometimes also adapt to specific time periods — I'm looking at you, '90s tribal tattoos — for the most part, they're surprisingly consistent from the 1970s to today. Some are dainty, others large and fighting for space.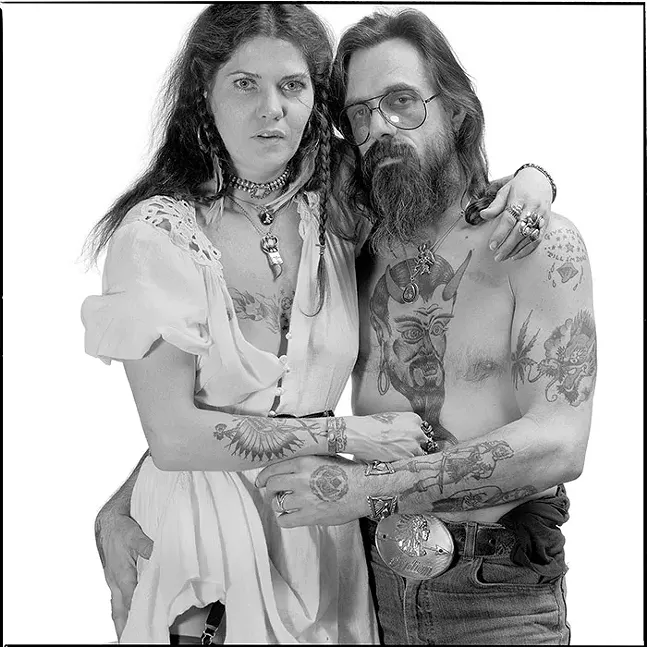 There's a tattoo of Jesus on a guy who looks like Jesus. A childlike cartoon of Papa Smurf beside an image of a devil graphically fucking a woman. Lots and lots and lots of birds. And what might be the most surprising takeaway is that even though tattoos have become normalized over the years, I found myself getting caught off-guard spotting some people one wouldn't normally expect with tattoos. Once, of course, the eye contact was broken and your eyes were allowed to wander.
My favorite photograph in the entire book, for example, is Dennis, photographed in 1993. His hands are folded in front of him as he stands; he wears high-waisted, very ordinary shorts with a belt. A watch. A thin chain necklace. Giant black glasses. A mustache. A chestful (and bellyful) of hair. He looks like — and I'm not trying to be mean here, so I'll disclose I quite like nerds — a huge nerd. Yet underneath the chest hair sits a parrot. A flower. More ink on his arms, and almost cropped out of the bottom of the photograph, his thigh. It's a beautiful moment.
The only unfortunate side effect from reading this book will now be constantly trying to guess which people at the bus stop have tattoos hiding under those Steelers coats.