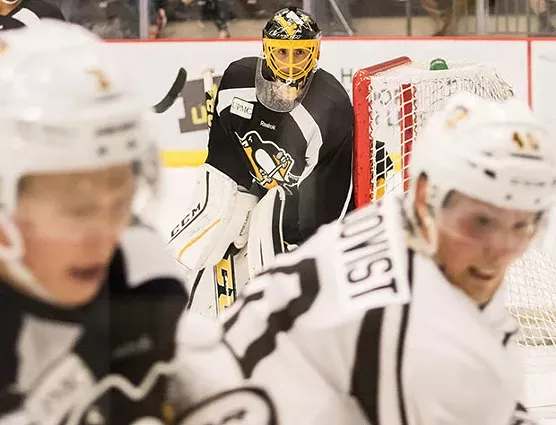 By the time you read this, Pittsburgh Penguins goalkeeper Marc-André Fleury might no longer be with the team he's been a part of since 2003. On the other hand, by the time you read this, Fleury might still be the Penguins' backup goalie as they prepare for a run at a second straight Stanley Cup.
The Pens star is likely reaching the end of his time in Pittsburgh, and the March 1 trade deadline (this story was written two days earlier) has many folks speculating that a deal is imminent. Fleury was unseated as the team's starter last season, when goalie Matt Murray replaced him after the veteran took a puck to the noggin and sustained a concussion. Unfortunately for Fleury, Murray was lights-out in the playoffs, and was a major reason the team won the Stanley Cup.
This year, Fleury played a little more because Murray started the season injured. Now, as the playoffs loom, Fleury is back on the bench. But just because the Penguins have two star goalies doesn't mean they're ready to let one go just yet. For one, Fleury has a no-trade clause that allows him to veto any move to nearly half the league. Secondly, Pens General Manager Jim Rutherford says he'd like to keep Fleury around as a playoff insurance policy.
To hell with that.
Marc-André Fleury isn't just some flash-in-the-pan, some one-trick-pony-on-skates. He's an elite goaltender who deserves to be on the ice, and if we can't do that, then send him to a team that can and get some value in return. With the NHL expansion draft looming in the offseason, teams can protect only one goalie. And because of his contract, the Pens would have to protect Fleury, leaving Murray open to becoming the first goalie of the newly formed Las Vegas Golden Knights.
Moving Fleury now makes sense for everyone, especially Fleury. I know he loves this city and this team. But watching him last season skate up to the Stanley Cup and hold it over his head for about a half-second made it obvious that it's hard for him to be here and not play. In this past weekend's Stadium Series game against the Philadelphia Flyers, Fleury had a special goalie mask and helmet made featuring airbrushed figures of the players he's most enjoyed playing with, including Sidney Crosby, Evgeni Malkin, Max Talbot and Mario Lemieux.
Saying goodbye is never easy, and long goodbyes are even tougher. But a player of Fleury's talent, and with his history, deserves to play. I'd rather remember him as the goalie who won the 2009 Stanley Cup by making one of the greatest saves in league history than as the backup goalie on a Stanley Cup team. After all he's done for the Penguins and their fans, he deserves better.