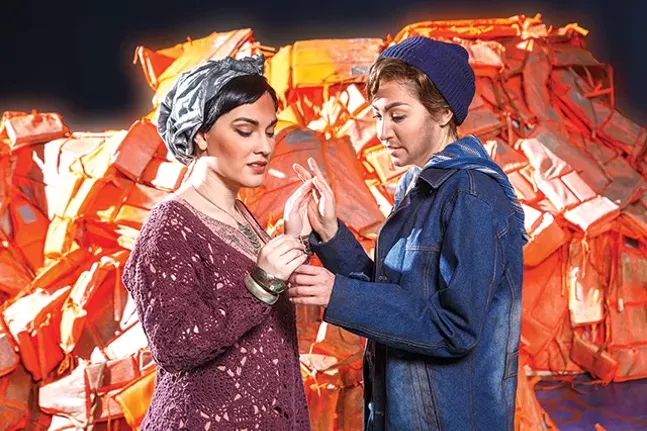 In reconceptualizing the 1780 opera Idomeneo for afterWARds - Mozart's Idomeneo Reimagined at Pittsburgh Opera, director David Paul had two priorities.
First, he had to cut down the original's four-hour runtime to something more manageable. He started with the scenes and songs he knew he couldn't live without, then started cutting excess and reorganizing plot points so the whole thing still made sense.

Paul's second goal was to help update the story to make it relevant for today's audiences. The original Idomeneo is set in Greece during the aftermath of the Trojan War. The story follows the tragic romance between the princess of Troy, Ilia, and the prince of Crete, Idamante, who rescues her from a shipwreck at the opera's outset. Despite their warring homelands, Idamante and Ilia fall in love, much to the chagrin of basically everyone else on the island. Paul found poignancy in Ilia's shipwreck and status as a stranger in a foreign land and set about incorporating imagery from the Syrian refugee crisis to illustrate that connection.

"For me, the Syrian refugee crisis, initially in Greece and then the rest of Europe, was a really interesting and powerful connection to this opera," says Paul. "I wanted to see if there was a way to focus in on the post-war trauma and the idea of these stranded refugees on this Greek island."

To help make this connection, Paul uses time-neutral set design and costumes. The outfits are vague enough to look at home in most countries in the early 20th century. The set's main components are piles of life jackets and a sail, giving the stage an eerie sense of tragedy.

This production, opening at CAPA Theater downtown on Jan. 26, features performers from Pittsburgh Opera's resident artist program, which provides guidance and training to young opera singers. This small cast features tenor Terrence Chin-Loy in the title role, soprano Ashley Fabian as Ilia, mezzo-soprano Antonia Botti-Lodovico as Idamante, and soprano Caitlin Gotimer as Elettra. With the relative intimacy of the CAPA Theater and the level of detail in the set and costume design, Paul says it's an ideal venue for these young performers to get their footing.

Musically, Paul points to Idomeneo's aria "Fuor Del Mar" as the opera's most powerful moment. The main line translates roughly to, "there's a storm outside, but the storm inside me is far stronger." Though he thinks of Ilia as an enemy, in this moment Idomeneo's expression of trauma mirrors that of the young princess.

"We may have survived the war, maybe even won the war," Paul explains. "But the war inside of you having come through that, it rages on much longer. That piece encapsulates what I'm going for."