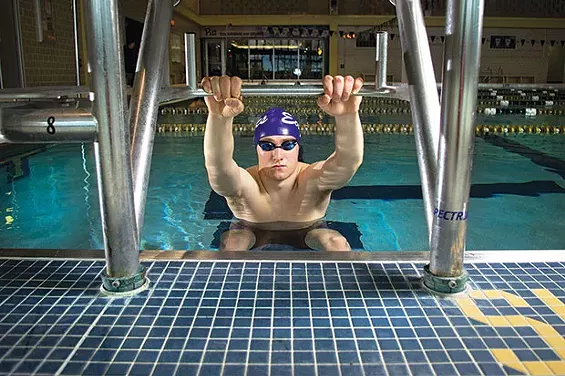 Sead Niksic is one of the most accomplished high school athletes in the Pittsburgh region whom you've probably never heard of.
Niksic, a junior at Pittsburgh's Obama Academy, holds two WPIAL swimming records (51.29 seconds in the 100-yard backstroke and 50.52 seconds in the 100-yard butterfly), and recently he placed second and third in those respective events at the Pennsylvania Interscholastic Athletic Association tournament.
Varsity swim coach Mark Rauterkus says Niksic's efforts at the PIAA helped the team rank among the top 20 in the state. Niksic's times were also good enough to qualify him to swim in national competitions.
"Sead's one of the best around," Rauterkus says. "He's one of the top swimmers in the region and state. He's really smart, academically and socially. He's got a lot of … intelligence. You couple that with being very goal-oriented — he works hard at it."
"He's been able to show a great deal of independence, but he's also a fun person to have around the team," he adds. "To be a champion, you have to have a great deal of skills."
Niksic has been swimming the majority of his life. At an early age, he began swimming recreationally for Team Pittsburgh Aquatics. He still trains with Team Pittsburgh six days a week, sometimes twice a day.
"You do what you got to do," Niksic says.
Niksic is taking a break from swimming after this latest tournament, but he'll be back training shortly. His usual day consists of class from about 8 a.m. to 3 p.m., a short nap at home after school, training with Team Pittsburgh from 5 p.m. to 7 p.m., dinner at 7:30 p.m. and then homework.
"It's a bit of a lifestyle where it's a part of every day," Rauterkus says. "If you're taking holidays, people are passing you."
Aside from swimming, Niksic is interested in computer engineering. With a proficiency in math, a lifelong familiarity with computers, and aspirations to work in major software development, he plans to pursue computer engineering in college. But Niksic is unsure of swimming at the collegiate level.
"It's a struggle," he says. "It's something every student athlete has to think about." But that uncertainty hasn't affected his success in competition.
"Some people have specific goals," Niksic adds. "My specific goal was to improve on the 100 [yard] back[stroke]. Every day going to practice, that helps you stay motivated, and you want to make sure you do well for your team."