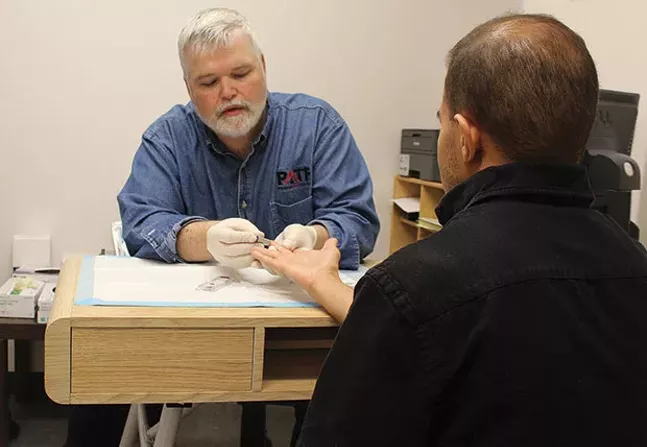 According to the Pennsylvania Department of Health's most recent data, 2,830 people in Allegheny County were living with HIV/AIDS in 2015. That year, the county saw 145 new HIV diagnoses and 57 new AIDS cases.
But the fight to end the epidemic is getting a hand from AIDS Free Pittsburgh, a local nonprofit managed by the Jewish Healthcare Foundation that seeks to reduce transmissions of HIV.
"AIDS Free Pittsburgh has a jurisdictional effort and a public-health commitment to end AIDS as an epidemic in Allegheny County by 2020," says project manager Julia Och. "Our two specific goals are to reduce the rate of new HIV infections by 75 percent and to eliminate new AIDS diagnoses in the county."
Initiatives like this aren't unique to Pittsburgh. Organizations like Getting to Zero San Francisco strive for the same goals by starting treatment for HIV-positive patients as quickly as possible and providing information to vulnerable communities with campaigns on public transportation and at LGBT-friendly spaces. Getting patients on antiretroviral drugs as soon as possible (now often within 48 hours) after an HIV diagnosis, instead of waiting for T-cell counts to drop as patients become sicker, has also been tremendously effective.
"We've found that people actually do better when people start treatment right away. Not only do they have better quality of life, but if they are virally suppressed, it's virtually impossible to spread to someone else," says Och.
While these interventions have suppressed transmission and bettered quality of life for those diagnosed with HIV, an ounce of prevention is worth a pound of cure. Now in its second year, AIDS Free Pittsburgh is focusing on preventing initial transmission of the virus with a grant that will help pay for labs, doctor's appointments and other gap services for people who could benefit from the use of PrEP.
PrEP, which stands for pre-exposure prophylaxis, is an anti-HIV medication that comes in the form of a daily pill called Truvada. The medication helps prevent those who are HIV-negative from contracting the virus.
The manufacturer, the biopharmaceutical company Gilead Sciences, offers a payment-assistance program to eligible HIV-negative adults to help pay for the medication for about three months. But this assistance doesn't cover the appointments, testing and tri-monthly lab work required to take Truvada.
That's where AIDS Free Pittsburgh is stepping in. In hopes of increasing access to the treatment for those who are uninsured, the organization will fund gap care for patients while they search for a long-term solution to payment issues, such as affordable health insurance or Medicaid.
"We're very uniquely funded by the two major health-care systems [Highmark and UPMC]. They came together and they said, 'Hey, we commit to 1.5 million [dollars] over five years,'" says Och, explaining that often initiatives like this in other cities are funded by public health departments. AFP is also currently exploring the possibility of extending services to underinsured people.
But money isn't the only barrier that organizations like AFP have to deal with when it comes to PrEP. Representatives from organizations around the city like Planned Parenthood, Pittsburgh AIDS Task Force and Project Silk say that there has been a lot of stigma associated with PrEP and that they are working to fight it.
"When it first came out, it was targeted toward the highest-risk individuals — gay men," says Jason Herring, community-health director of PATF. "[Health] agencies were terrified people would see it as free license to have all the sex they wanted. There is a large system of fear and shame built around sex. Stigma was instantly injected into it.
"We had a hard time in the beginning. I would have to call people's primary-care physicians and say, 'You have a patient that needs this and I will teach you how to do it.'"
The stigma that Truvada is only for gay men still prevails. While it's true that the two groups at the highest risk for HIV infection are men who sleep with men, and trans women of color, providers want to make sure to tell the public that PrEP is for everyone.
"PrEP is for women, men, people of all genders and trans folks. We want to create broader acceptance," says Katie Horowitz, vice president of education for Planned Parenthood of Western Pennsylvania. "We're getting together, getting to know each other and opening the lines of communication."
For more information on PrEP, visit aidsfreepittsburgh.org. Planned Parenthood will also be offering information at Pittsburgh Pride on June 11.
If you're interested in PrEP, here's a helpful
online quiz
to determine if it's right for you.