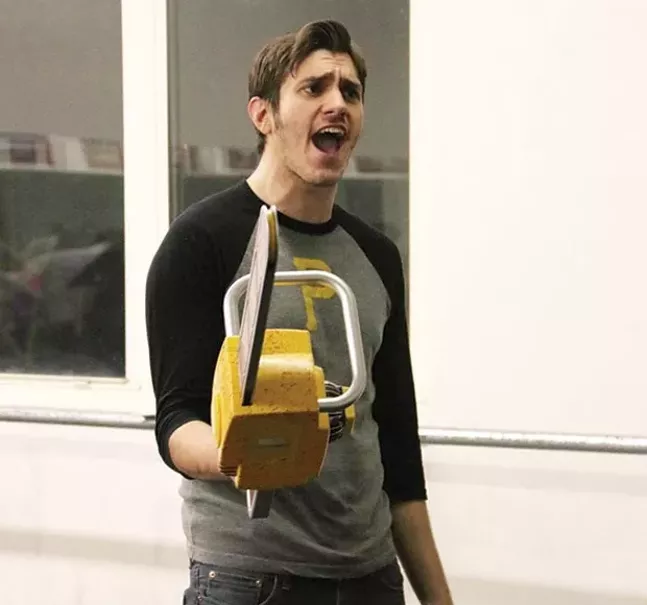 Gesturing toward a table bearing a mock chainsaw, a shotgun and a metal hand, Nick Mitchell discussed how much fake blood would be just right. The director was pondering the props for Evil Dead: The Musical, a stage show to be produced by a perhaps unlikely troupe: Pittsburgh Musical Theater.
With Evil Dead — inspired by the cult-horror films — and rock musical We Will Rock You, PMT launches After Hours and Rockin' West End, initiatives to stage edgier fare that diverges from its typical family-oriented repertoire, like A Lyrical Christmas Carol and The Little Mermaid.
"We will continue to program family-friendly shows," says PMT executive artistic director Colleen Doyno. "But this is our opportunity to present some of those shows that are edgier and rockin', and something we can do in front of a more intimate audience. It's a nice next step into our future."
We Will Rock You is a 2002 British musical by Ben Elton, strung together with hits by Queen. It follows two characters trying to save rock 'n' roll in a post-apocalyptic world. Doyno says this the first regional staging outside of nationally touring productions.
The widely staged, bloodily comic Evil Dead combines aspects from all three Evil Dead movies, including protagonist Ash, the regular guy turned demon-slaying badass. Composer George Reinblatt's songs include "All the Men in My Life Keep Getting Killed by Candarian Demons."
We Will receives six performances; Evil Dead receives four late-night performances, each following one of We Will's Friday and Saturday shows. The crew has 45 minutes to transform the stage from apocalypse to a demon-infested cabin in the woods.
Unlike PMT's bigger productions at Downtown's Byham Theater, both shows will be staged with professional performers in PMT's West End space, the 250-seat Gargaro Theater. Mitchell likes the intimate setting.
"The way [theater is] moving, and should be moving, is toward a more personal presentation," says Mitchell. "I think including the audience allows for a more shared experience. It's not just people watching a show, it's a show happening with an audience."
PMT hopes that staging more adult-themed shows will draw younger crowds.
"The fight for the entertainment dollar is fierce in Pittsburgh," Mitchell says. "But by branching out like this, we're keeping our bullseye so much bigger."