At Carrick High School, a lesbian student and school officials are at odds after the student was barred from last month's homecoming dance.
Sammyah Turner, a freshman at Carrick, and her mother, Maesha Turner, claim that Sammyah was denied entry because she's a lesbian who prefers to dress in male clothing. Her homecoming outfit consisted of black slacks and a black button-down shirt with red suspenders and a red bowtie.
Sammyah told City Paper she had purchased a ticket for the dance and presented it, along with a homecoming wristband, the night of the dance, Oct. 7. However, she forgot her school ID, and was told to bring it, so she could enter. By the time Maesha arrived with the ID, a group of volunteers and security guards, and assistant principal Heidi Tamasko, had gathered next to Sammyah. The ticket-takers claimed Sammyah wasn't on the list of approved students and Sammyah was in tears.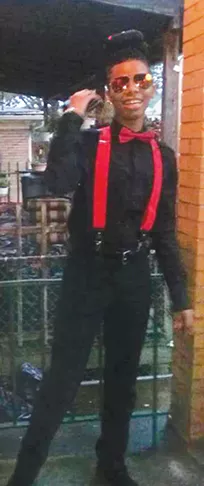 "It went so fast from 'we have the confirmation and the wrist band and the ticket' to 'oh, she's not on our list,'" says Maesha.
After a shouting match, where Maesha questioned the school for allowing Sammyah to buy a ticket just to deny her entry, and school officials saying that someone else must have bought the ticket for her, Sammyah and Maesha decided to leave. While they were walking away, an adult said, "And what is she wearing anyway," according to Maesha.
"I feel like there was discrimination … because of the comment," says Sammyah.
Tamasko denies the statement was made.
Sammyah is 15 years old. She came out last year and self-indentifies as a "stud," or a lesbian who dresses in male clothing. Like many youths in the LGBT community, she says she was bullied.
"Boys really don't like when girls try to dress like boys, so they bully me and call me names," says Sammyah. "And then the girls are the same as the boys."
Amber Sloan, who also identifies as a stud, is an LGBT advocate in Pittsburgh, particularly in the black community. She was contacted by the Turners and is sympathetic to their account of the event.
"We are at a different age, and a different era, but some people accept and some people don't," says Sloan. "We are in a day and age where we have to accept these kids."
However, Carrick High School principal Angel Washington denies there was any discrimination involved with Sammyah's homecoming situation. Washington invited CP on Nov. 4 to an interview with her, Tamasko and three senior students involved in the school's Gay-Straight Alliance to explain their side of the story.
"We try as hard as we can to be as inclusive in our practices," said Washington at the interview. "In fact, our dress code isn't even gender-specific. … The accusation doesn't make sense, and it's hurtful because we know that other students were dressed almost identically to [Sammyah]."
Carrick senior Haley Freund, who identifies as gay, said there are a few students who might use bullying comments, but overall the atmosphere at Carrick has been welcoming to LGBT students. "Our school is very supportive. We have [LGBT] groups, and there has never been any discriminatory action toward us or any other gay people that I know of."
Washington said the high school does have a strict policy that bars students with a disciplinary record from attending dances. "We have some systems in place for the safety of the kids," said Washington. "When students buy tickets to the dances, they have to meet certain criteria. … Criteria was laid out, and I can tell you that [Sammyah] did not meet the criteria."
Washington wrote in her letter to students and parents at the start of the semester, outlining the criteria: "Homecoming dance is scheduled early this year (October 7, 2016), and any violations that lead to disciplinary action will prohibit a student from attending this dance, and may jeopardize future involvement in school activities."
She asserts that Sammyah was never on the list to enter the dance because her disciplinary record disqualified her. Disqualifying factors include unexcused absences, fighting, monetary debts and suspensions, according to Washington. But City Paper was unable to obtain Sammyah's record due to student confidentiality.
Maesha says that before the homecoming event, Sammyah didn't have many demerits, except for one unexcused absence, and overall she is a good student. Also, Maesha and Sammyah were under the assumption the ticket and wristband were good for admission, but Washington said that tickets and wristbands were issued merely as party favors this year to go along with a Hollywood theme.
Because Sammyah was never on Carrick's list of dance attendees, Washington and her staff said another student, who didn't attend the dance, bought a ticket and sold it to Sammyah's date, who then gave it to Sammyah. Maesha and Sammyah deny this because both remember Sammyah calling Maesha when she was standing in line waiting to purchase the ticket.
Regardless, Maesha feels the Carrick policy might be a bit too strict, and could disproportionately affect those come from marginalized backgrounds, like LGBT students. She points out that Sammyah was invited to the Perry High School homecoming, which is in the same school district as Carrick, and attended without issue.
"Sammyah has been struggling at coming out and to be herself," says Maesha. "That is what I teach my kids — be yourself, you're allowed to. We have had a lot of problems with the bullying and to be turned away like that just puts [Sammyah] in another place."
Carrick is part of the Pittsburgh Public School system and PPS spokesperson Ebony Pugh also denies any discrimination on the part of Carrick administrators or students. "We are aware of claims that the student was not permitted into the dance because [of] the student's attire," wrote Pugh in an email to CP. "There is no basis to the claim. In fact, photos of Pittsburgh Carrick's homecoming court demonstrate the inclusive environment at the dance."
Photos on Carrick's Facebook page posted on Oct. 8 and 11 show what appear to be female students dressed in typically male attire. However, Maesha points out all the pictures were posted after she and Sloan posted pictures of Sammyah on Facebook, alleging Sammyah was discriminated against.
THRIVE is a Pittsburgh agency that deals with LGBT-related issues in local schools. Vanessa Davis of THRIVE didn't issue a comment on the Carrick High homecoming issue, due to its complicated nature. But she did say, "THRIVE is working hard to communicate a better understanding of the non-discrimination policy, and we are constantly working to get that message out there."
Washington defends her administration's communication about who can and cannot attend school dances. She said there were two announcements at assemblies about the school's disciplinary policy, as well as many smaller communication efforts.
She says her students have won awards for working toward increased student participation and that Carrick has an inclusive and safe environment.
"There are safe spaces posted throughout the school of teachers who support the ideology behind Gay-Straight Alliance and creating an inclusive environment," said Washington. But she always thinks there is room for improvement.
"We can always do better with communication," said Washington. "Perhaps we could share [disciplinary rules] better with freshman and new students."