The issue of affordable housing in Pittsburgh hit big this summer with the news that hundreds of residents were being evicted from the Penn Plaza Apartments in East Liberty.
Officials responded promptly by holding a meeting to address anxious residents. City councilors, state representatives, county officials and Mayor Bill Peduto all attended. They seemed to be responding to East Liberty's trend of losing low-income earners while gaining richer residents.
Peduto promised residents that they "would be respected," and vowed to use the occasion to make a "statement to developers that we do not do business this way."
The city's affordable-housing task force also responded to the eviction, and the mayor's office instituted meetings between the Penn Plaza residents' tenant council and representatives of the buildings' owner to try to reach an agreement that benefits the residents and future affordable-housing decisions. The buildings are owned by the Gumberg family, who has extensive real-estate holdings — mostly malls and retail outlets — across the region.
Last week, an agreement was reached that will see the Gumbergs contribute to residents' moving costs, among other things, appeasing many of the Penn Plaza residents.
"This issue is bigger than us, so this deal helps to lay a great framework for more affordable housing in the city," says Lillian Grate, president of the Penn Plaza tenant council.
But critics question how this agreement can be considered a win for affordable housing when it appears Penn Plaza residents will ultimately end up displaced from East Liberty.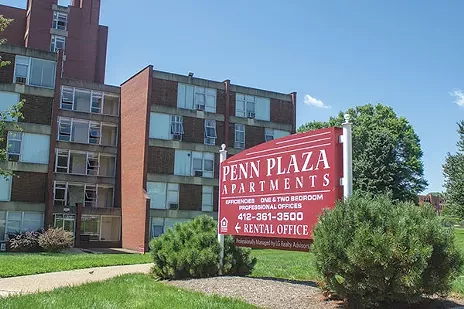 "People are never going to be able to duplicate that rent," says current Penn Plaza resident Randall Taylor, of the below-market-rate rents of Penn Plaza. "Where are they going to relocate?"
In early July, Pennley Park South, a Gumberg subsidiary that manages the Penn Plaza complex, issued 90-day evictions effective at the end of residents' leases. Some residents have lived in Penn Plaza for more than 15 years. Some residents moved out soon after receiving the notices. No explanation was offered by the Gumbergs on the future of the buildings, and rumors started to circulate; many believed a big-box store would be replacing their homes, while others thought high-end condos would take over.
Peduto told City Paper in July that the Gumbergs planned to renovate the property as a combination of retail and housing. (A press release on the deal issued this past Monday confirms that plan.)
On July 18, in response to the eviction notices, more than 140 residents voted to form a tenant council and elected representatives to meet with the city and the Gumbergs.
Also following the eviction announcement, city officials began acting on affordable-housing plans. City Councilor Daniel Lavelle says that the affordable-housing task force, which was created in February, began to hold regular meetings only in the week following the formation of the Penn Plaza tenant council.
Lavelle says that city councilors and their staff are planning to go neighborhood by neighborhood and identify each neighborhood's affordable-housing concerns in the "very near future." He adds that the city has hired outside consultants to determine what the best practices are in terms of creating affordable-housing legislation for Pittsburgh.
Lavelle says the task force is looking beyond East Liberty because affordable housing is a city-wide problem. In fact, in Allegheny County, there are only 25 to 40 affordable and available rental units per 100 extremely low-income households, according to the 2015 Pennsylvania profile by the National Low Income Housing Coalition.
City Council's focus, according to Lavelle, is on ensuring that future communities are not displaced. "We are encouraging developers into looking to build [replacement properties] first, so residents can stay in the neighborhood," he says.
On Sept. 10, Peduto announced a plan to fund affordable housing in East Liberty, including possible funds for those displaced from Penn Plaza, according to a press release. Peduto's chief of staff, Kevin Acklin, was also holding periodic meetings with representatives from the Penn Plaza tenants' council and the Gumberg's lawyers to reach an agreement on how best to address the potentially displaced. That agreement was released Sept. 28.
And while the agreement addresses Penn Plaza residents' concerns about immediate evictions and moving costs, it appears that those residents might not fit into any of the city's affordable-housing plans.
According to Grate, of the tenants' council, the Gumbergs have agreed to provide as much as $1,600 to each household. This amount does come with conditions, she says, and some residents will not receive the entire amount.
Penn Plaza consists of two large apartment buildings — one at 5600 Penn Ave. and the other at 5704 Penn Ave. — with 312 total units.