"We are close enough [to Pittsburgh] that people will move here without transportation, and not realize the impact," says Davis.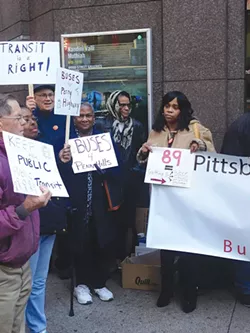 She says the dearth of bus service worsens residents' access to jobs and amenities like grocery stores. Davis says a typical sight in Penn Hills is residents walking with grocery bags in tow, on hilly, sidewalk-less streets, like Hulton and Verona roads.
Charlotte Foster lives in the Mt. Carmel Road area of Penn Hills. Last year, she had trouble hiring a caretaker for her ailing father because there was no way for caretakers to reach her home without a car. In her neighborhood, bus service operates only on a limited commuter schedule (out in the morning, and back into the community in evening) and doesn't run on weekends.
"There are probably many wonderful caregivers that my dad will never meet because of the bus," says Foster. (Davis, Foster and other Penn Hills residents are currently involved in an advocacy campaign to have the Port Authority increase service into the municipality. Service changes will be considered by Port Authority over the next year, and spokesman Jim Ritchie told CP in November that Port Authority will have a tough decision considering the volume of similar requests.)
In addition to problems like Foster's, poor public transportation also increases living costs for residents. According to research from the Center for Neighborhood Technology, an urban think tank, Penn Hills residents spend around 24 percent of their income on transportation. In neighborhoods like East Liberty, Garfield and the Hill District, that number is around 17 percent.
Penn Hills planning director Chris Blackwell agrees that transportation is the biggest obstacle for low-income residents of Penn Hills. "The existing services we have in Penn Hills are sufficient for growth, but not the services we don't control, like transportation," says Blackwell. "We don't have the resources to [fund transportation] ourselves."
Blackwell is optimistic about Penn Hills' future, though. He says the area is relatively safe and is working to attract investment. "Pittsburgh is growing and eventually we will grow here too," he says.
And while Penn Hills' population appears to be leveling off like Pittsburgh's, a noticeable difference between the two remains: According to 2014 estimates, Penn Hills added 1,000 black residents since 2010, while Pittsburgh lost 4,000.
When discussing African Americans in Pittsburgh, one cannot ignore issues relating to low income and poverty. Estimates from 2014 surveys show that African Americans in Allegheny County make an average of $19,000, while whites make on average more than $35,000. The Pittsburgh metro area's black poverty rate was around 32 percent in 2012, higher than national averages and on par with the struggling cities of Detroit and Cleveland.
A tale of two Pittsburghs
Becky Cowan and her husband, Rander Thompson, opened up Steel City Rib House in East Liberty in 2006. Cowan says that at first, they had received strong support from many organizations in the community, including the East Liberty Chamber of Commerce, and were told they were "a marker of the revitalization of the community."
Cowan says they were consistent with rent for the most part, but failed to pay rent one month. After they fell behind, she says, they paid what they could manage each month, but the owner announced they would be kicked out in 2009. Cowan says she looked everywhere for help to stay open, but was told there were not many resources, and did not stay open through 2009. In 2012, Union Pig and Chicken opened in the same location.
Ivey says this is ironic because Union is also a barbecue restaurant, and because the owner, acclaimed chef Kevin Sousa, has also had financial struggles at the restaurant. However, Sousa has received about $900,000 in loans and donations over the years to finance his restaurants from public and private entities like Heinz Endowments and East Liberty Development Inc., according to the Pittsburgh Post-Gazette. Cowan says that she received around $75,000 in start-up loans from nonprofits like ELDI and Bridgeway Capital.
"It is crazy, because when people before wanted to do the exact same thing, they did not get that kind of help," says Ivey. "And now mom-and-pops can't afford to set up shop [in East Liberty]."
Kendall Pelling, of ELDI, says it's "preposterous" to say that the new developments and the growing popularity of East Liberty has driven out mom-and-pops. He notes that are many other small, locally owned businesses in the neighborhood.
However, Pelling says there could be a better philanthropic effort to help existing small businesses stay, and provide those businesses with not only capital, but connections.
"It would be great if there was an entrepreneurial program that does other things too, not just write a check," says Pelling. "Like connect them with partners that already know how to succeed in their type of work."
Cowan, who is originally from Southern California, says that it can be tough for African Americans in this city and that without good connections, starting a business is difficult.
"This city is black and white," says Cowan. "It is tougher for African Americans, but if you do the right things and find [good connections], you can make it."
Ivey says stories like Steel City Rib House's signifies a dichotomy in Pittsburgh, where some are enjoying growth and others are still struggling. City Councilor Daniel Lavelle recognizes this, too.
"Unfortunately in Pittsburgh, we have a tale of two cities," says Lavelle. "One that is considered most livable and one that has one of the most impoverished African-American communities in the entire country."
Ivey says this division has created urgency among some in East Liberty to rush to find subsidized housing before rents get too high. Currently, East Liberty has more than 860 subsidized units, but the wait lists are two to five years long.
ELDI recognizes demand for affordable housing will increase when more than 300 units at Penn Plaza are demolished over the next two years. Pelling says 150 to 200 affordable units are in East Liberty's pipeline, but he wishes there were more, and not just in East Liberty.
"If we could add another 250 to 300 affordable units in East Liberty, that would be great," says Pelling, "but the whole city needs thousands."
Bringing African Americans back
Pittsburgh needs 21,580 permanently affordable housing units, to be exact, according to a study by the Housing Alliance of Pennsylvania. According to a amendment to the city's zoning code proposed by city councilors Lavelle and Ricky Burgess, "an estimated 8,000-12,000 new housing units are proposed to be built in the city of Pittsburgh, none of which will be affordable for low-income families."
Redwood says that the city's past failures in requiring developers to produce housing at rates corresponding to average African-American income, effectively excludes black families from living in places like the Lower Hill.
Kyle Chintalapalli, housing manager for the mayor's office, was unable to comment on the city's affordable-housing plans by press time.
And while some affordable-housing successes have occurred in a few neighborhoods, Lavelle says city-wide legislation is still needed. The city's Affordable Housing Task Force, which formed this past summer, should have its recommendation for city council by the summer of 2016, according to Lavelle.
"What we need is funding that is tied to the entire city, so housing can be placed all throughout our city," says Lavelle.
And the city still has many neighborhoods with weak market forces, so officials can get out in front of the problem. Uptown, for example, has low density, great transit and close proximity to major job centers. Jeanne McNutt, of Uptown Partners, says Uptown is in a unique situation because most of the land is vacant and they "don't have buildings that will come down and displace people."
The area has already attracted investors, including those interested in the nearby former Civic Arena site, and has around 345 subsidized units and new market-rate lofts opening in 2016. Justin Miller, head city planner for Uptown, says the city is doing extensive data collection on the neighborhood and equitable development is at the top of the list of priorities.
And equity is a top priority for McNutt, too, who says, "We want Uptown to be the neighborhood that young people can afford … young people of all colors."