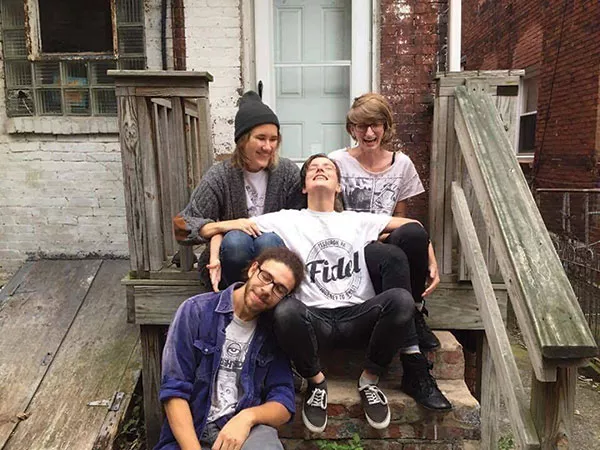 For the Pittsburgh-based band Rue, it's time to break out of the bedroom.
Beginning as the bedroom-recording project of Laura Lee Burkhardt in 2013, Rue is now a four-piece with big plans for the future, including a new single, a split 7-inch with the band Weller and a debut full-length.
Burkhardt is a self-taught musician, who uses an electric ukulele, journal entries and her soft soprano to create moving indie punk.
After bringing on a drummer shortly after launching her project, Burkhardt immersed herself in the Pittsburgh DIY music scene, playing shows throughout the city and releasing short EPs. It wasn't until a show with folk-punk singer-songwriters Kimya Dawson and Paul Baribeau last year that she felt Rue needed to be something more.
As she watched Dawson and Baribeau perform, Burkhardt was struck by the idea of bringing on more members to form a full band. Tapping the friends she had made in the local music scene, Burkhardt added Laura Cramer, Anna Lowe and Jonathan Lightfoot to form a band.
Together the four work to bring Burkhardt's diary entries to life.
"We've experienced such growth since they came on," Burkhardt says. "Our sound really changed for the best, and we've become much more harmonious. I'm able to write songs about my feelings that are personal, but accessible, and then present them to the band to flesh out with full instrumentals."
The band's single "Reversed" is set to debut on its Bandcamp this week. (You can also find it on FFW>>, the music blog at www.pghcitypaper.com.) The song is the first to reflect what the band describes as a bigger and more technical sound.
"Reversed" is expected to appear on a debut full-length due out this winter. The yet-to-be-titled record is what Burkhardt calls a cohesive narrative of themes, unlimited in creative potential.
"Sometimes I feel insecure that I'm a self-taught musician, but it enables me to break creative rules that you don't know exist," she says. "It's why my bandmates are saints, because they'll often tell me whether something sounds right."
Releasing the album is the first of many "pipe dreams" the band has written down in a large binder. Beyond the album release, Burkhardt says they're going to make many more of those dreams come true.
For more information, visit ruerue.bandcamp.com.