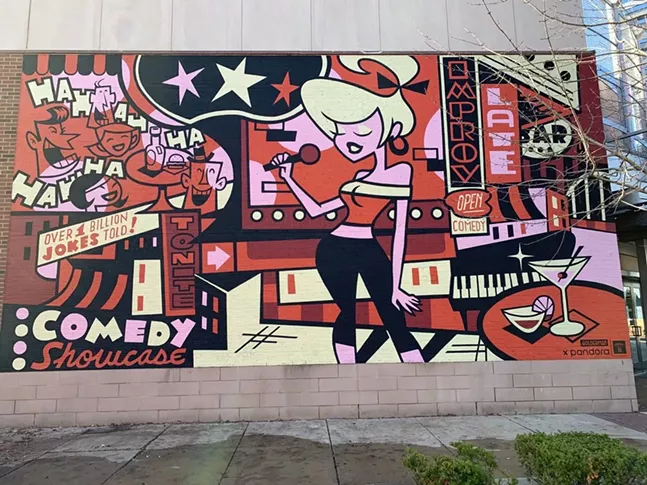 Pandora, the original internet radio platform, has more to offer than music. In addition to podcasts, Pandora has a solid base of comedy albums available to users — no shuffling needed. That's why when Stephen Walker, director of strategy for Improv Comedy Clubs, met with someone from Pandora and the topic of a collaboration came up, they ran with the idea.
"Even local comedian Terry Jones has his albums posted on Pandora, and he gets a nice amount of play from there," says Paul Tebbets, club manager at Pittsburgh Improv. "With the Improv, we're the Parthenon of free speech; we're not just comedy, we're all sorts of entertainment. It just felt like a natural partnership to work with Pandora and getting people access to more media, more information, and broadening their horizons."
On Wed., Dec. 4, Pittsburgh Improv was one of nine businesses across the U.S. to unveil an interactive mural as part of a national campaign commissioned by Pandora. A local artist from each city was brought on to create a mural. To showcase Pandora's newest app function, when someone takes a picture of the large-scale artwork, a QR code leads to a customized playlist curated the mural's artist. In Pittsburgh's case, it's a selection from street artist Brian Holderman. His 10-track playlist features artists such as MF Doom and Joan Jett, as well as comedy tracks from comedian Doug Stanhope. Another bonus: Those who take a picture in front of the mural and post it on Instagram with #improvmural will receive a free pass for two admissions to a future show.
Located on the left side of the Improv's building on East Bridge Street in Homewood, Holderman used a color scheme of orange, black, yellow, and red to create a throwback,
The Jetsons
-style collage.
"It's gorgeous, I absolutely love Brian Holderman's work," says Tebbets. "I think it's vibrant, lovely, it fits what we do … It's a blast from the past, Pittsburgh Improv, having been around since 1963, and a nod to the future, with its futuristic feel as well."
This is not the first time Pandora has collaborated with local artists to create murals. Earlier this year, the music streaming company debuted its Sound ON campaign, which ran in New York, San Francisco, Oakland, Atlanta, Miami, and Nashville, among others, and showcases portraits of top streaming artists.
"We're excited to keep the history of Improv moving forward," says Tebbets, "and giving a platform for people to speak their mind and get people to laugh."