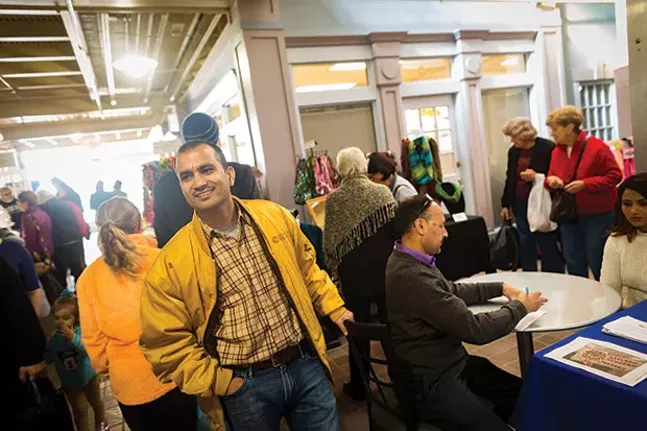 In just the few days following Donald Trump's victory in the presidential election, stories of abuse by Trump supporters across the country have been spreading like wildfire. The hate is directed at Latinos, Muslims, Asian Americans, LGBTQ individuals and other marginalized populations. A Twitter feed from New York Daily News writer Shaun King showcases hundreds of such stories. Hijabs have been ripped off women's heads, "build that wall" chants have broken out in school cafeterias, and U.S. citizens of Asian descent have been told to "go back to Asia."
As a result, the Pittsburgh immigrant and refugee communities are on edge. Early in Trump's campaign, he promised radical ideas like a "deportation force" and banning Muslims from entering the U.S. (He has since walked back on some of those proposals). But it's still unclear exactly what President-elect Trump will do, and with some of Trump's most radical supporters reportedly abusing immigrants regardless of Trump's policies, the anxiety for immigrants is sure to continue.
Last week, following the election, Latino advocacy group Casa San Jose participated in a meeting with 20 Latino parents; many questions were asked. Is the government going to go after undocumented immigrants who tried but failed to qualify for legal status? Who is going to be prioritized for deportation? Should people be afraid to drive their cars?
"There is a lot sadness and a lot of disbelief in the [Latino] community, but mostly they are scared," says Monica Ruiz of Casa San Jose. "Many people don't understand our judicial system, and we are just letting them know that [Trump] doesn't take office tomorrow, but also sharing the realities of what he does have the immediate power to do."
Ruiz says young Latinos who are U.S. citizens have even raised concerns that they're going to be deported because their parents are undocumented. "They're very afraid. I feel so heartbroken for the youth," says Ruiz.
And other refugee communities in Pittsburgh aren't feeling much better than Latinos. Upendra Dahal, of the Bhutanese Community of Pittsburgh, says most of the Bhutanese voted for Hillary Clinton (their first time voting ever). He says the community isn't outright scared of a Trump presidency, but was "definitely not feeling good about Trump's rhetoric all year long."
The Bhutanese are Pittsburgh's largest refugee group, and many have secured steady employment and bought houses in the region. But Dahal says many Bhutanese and other refugees are still dependent on services when they first arrive, and he worries those could be stripped.
"Everyone is shocked with his win," wrote Dahal in an email to Pittsburgh City Paper. "So we are kind of trying to come to terms with the reality now. The community in general may not feel the immediate impact of Trump's win, but we in the nonprofit organizations serving refugees and immigrants are deeply concerned … [we are worried] about new policies that would definitely impact refugee programs in the United States."
Pittsburgh's Somali Bantu refugees could also be affected, and they're terrified.
"The community feels unsafe, we don't know what will happen when we go outside," says Abdulkadir Chirambo, of the United Somali Bantu of Greater Pittsburgh. With Trump's victory, "we don't even know how the authorities will treat us."
When Trump was campaigning in Minnesota earlier this year, he said Somali refugees have brought problems to Minneapolis. "Here in Minnesota you have seen firsthand the problems caused with faulty refugee vetting, with large numbers of Somali refugees coming into your state, without your knowledge, without your support or approval," said Trump at a Nov. 6 rally in Minneapolis, according to cbsnews.com. "You've suffered enough in Minnesota."
"Since he targeted the Somali community, the community feels stress from that," says Chirambo. "If everybody looks at us like that, it isn't fair to us. We are U.S. citizens."
Chirambo says Trump-inspired bullying has already occurred in Pittsburgh. On Nov. 10, he says a group of Bantu youth, including Chirambo's son, were bullied by other youth, some shouting, "You are going back to your country; Trump is gonna put you in the garbage." Chirambo didn't share more details on where this occurred.
On the CBS news program 60 Minutes, filmed on Nov. 11, Trump said he hasn't heard any stories of abuse of minorities by his supporters, and then looked at the camera and told his supporters to "stop it" if harassment was occurring. His son, Donald Trump Jr., said later in the show that most of the harassment stories were fabricated.
At the local level, Pittsburgh Mayor Bill Peduto says he'll continue ensuring Pittsburgh remains welcoming to immigrants, regardless of what the Trump administration does or says.
"There are no federal laws and there are no state laws that prohibit cities from being welcoming cities," says Peduto. "From creating programs in multiple languages, from working with immigrant groups to help them assimilate and [find] opportunities for jobs. There is nothing that you could legislate that would take away a city's right to be compassionate."