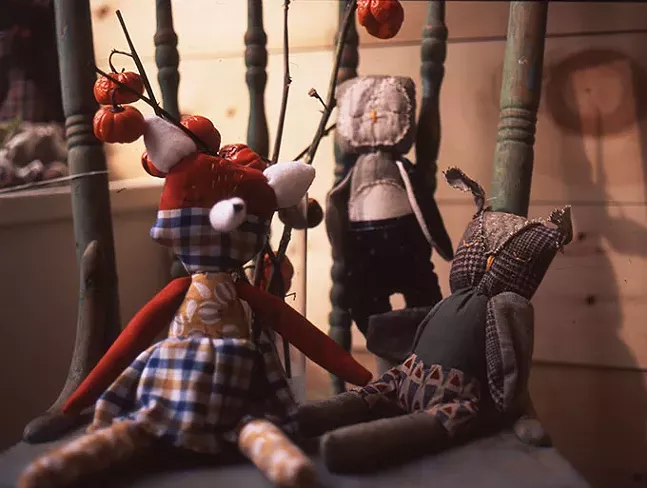 No two stuffed animals made by Chelsea Dunn of Faire Fauna are the same. Crafted from recycled fabrics and other materials, each one has its own look and personality.
Faire Fauna made its local market debut in May at Show and Sell, a spring pop-up by Handmade Arcade. She brings her plush menagerie back to Handmade Arcade for its big holiday market, Dec. 6-7 at the David L. Lawrence Convention Center.
Pittsburgh City Paper spoke with Dunn about favorite toys, learning to sew, and more.
When did you start Faire Fauna and what led up to it?
I had always dreamed of learning how to sew. I've tried countless times in the past but every project failed miserably.
When I moved to Pittsburgh [from Florida] three years ago, I was inspired by the creative community to start learning again. I watched YouTube videos and started out embroidering pieces of clothing and then had the idea to embroider little faces on stuffed animals. They brought me comfort whenever I was homesick or stressed out from living in an unfamiliar city. Fortunately, my super supportive friends and family encouraged me to keep making them and became my first customers. Because of them, I created Faire Fauna to make little friends to be there when times are tough and to remind us we are loved and not alone.
Did you have a favorite stuffed animal growing up?
I loved all my stuffed animals so much I never could pick a favorite. My most vivid childhood memories involved me playing and talking with them. They were my best friends and a crucial part of me growing up. Every time I make a new doll, I think about the memories someone will create with the animal I'm making and how they will remember them for the rest of their lives, like I do.
Do you only use recycled fabrics? Where do you get your materials from?
Most of my materials were either scraps given to me from fellow crafty friends or bought at Pittsburgh's Center for Creative Reuse, a great resource for novice and advanced artists alike. I love using found materials because each piece of well-worn fabric is naturally comforting and already has a story to it. Fabric is such an underrated part of our lives and I wanted to give overlooked materials a new life and a chance to be appreciated.
Has anyone ever asked you to make a certain creature specifically for them?
I would love to do a crazy commission. I am always pushing myself to be making something new and trying different animals. The weirdest thing I made was this doll with bunny ears and a duckbill and I'm still not sure what I was trying to do. I also did a family of little monkey people as an experiment and they came out so cute and people really liked them. I never know what my brain will come up with next.

---
Handmade Arcade
Preview Party: 5:30-8 p.m. Fri., Dec. 6. $20.
Early Birdie Shopping Hour: 10-11 a.m. Sat., Dec. 7. $15.
Main Event: 11 a.m.-7 p.m. Sat., Dec. 7. Free.
David L. Lawrence Convention Center, 1000 Fort Duquesne Blvd., Downtown. handmadearcade.org