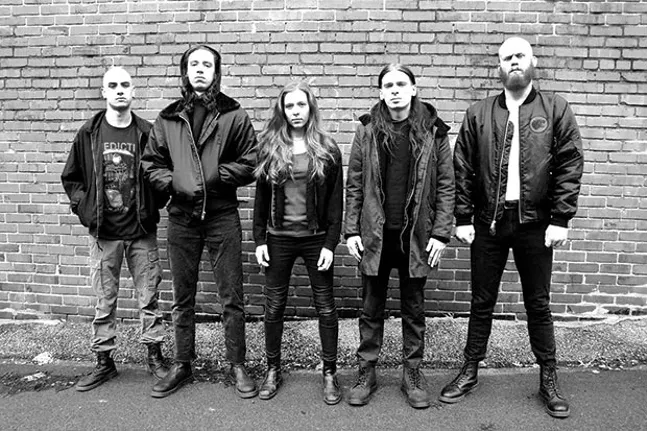 2017 was an awful year for plenty of people, but for Code Orange, it was a year of victories. The Pittsburgh metalcore band released the critically acclaimed Forever, snagging positive reviews from Rolling Stone and Kerrang!; was the first band to perform live at a WWE NXT event; and has become the first rock band from Pittsburgh to receive a Grammy nomination. On Jan. 28, Code Orange competes for Best Metal Performance of the titular track of Forever. The group headlined tours, dominated arenas and didn't pause for a single moment to catch its collective breath.
"We've had more awesome moments this year than any other year combined," explains drummer and vocalist Jami Morgan, in an interview with City Paper. "In our Code Orange bubble, everything that's happened since the first thing that happened this year has been the best thing that's ever happened to us."
"World gets darker, Code gets bigger, I guess," adds guitarist Reba Meyers with a coy smile.
Code Orange's music is intense, dark and raw. Each detail — from the electronics to the melodies to the riffs — has been painstakingly arranged to paint a very particular sound and picture. Forever was an all-out audible assault that ignored the rules and bent genres without hesitation. For instance, tracks like "Bleeding in the Blur" and "Ugly" are apt to appeal to a general alternative-rock audience. Guitarists Meyers and Dominic Landolina and bassist Joe Goldman hold down the sinister melodies, and Meyers' clean vocal work adds an edge absent in much of contemporary metalcore. The work of guitarist/electronics expert Eric Balderose (and the band's music videos) should resonate with fans of noise and experimental music, and cement the atypical sound of the band, while Morgan's powerful aggressive percussion finds favor with the hardcore and metalcore crowd.
Even if you aren't a fan of those assorted genres, it's pretty hard to deny the amount of talent shared by the five members of Code Orange. They've harnessed those talents, shoving their way to tremendous opportunities.
"We've been around for awhile, but we're all very young," explains Morgan, as all the members of Code Orange lounge around a shared living room. "We have a lot of time. We've got six or seven years until 30, and a lot of bands aren't even cracking by then."
The five members have been in a band together for 10 years, and most have been friends for as long or longer. Thus, they act far more like siblings than bandmates, with bantering, bickering and crosstalk. This kind of interpersonal connection solidifies the backbone of the band, whose intense ambition built upon the knowledge that each member of the band is crucial to its overall success.
Code Orange has been hustling in every sense of the word since 2008, and the band hasn't forgotten all the people who helped them out from the beginning. Many of them still work with and tour with Code Orange on a regular basis.
"A lot of the local older [punk/hardcore] guys have influenced us. I think the spirit of hard work and diligence and putting a lot of effort into the actual music was inspired by the older hardcore, metal, punk guys. That still drives us," Goldman points out.
Code Orange has stayed true to Pittsburgh — not moving to bigger cities, talking up its hometown — but there's a sense that the band doesn't feel Pittsburgh's reciprocated.
"I feel like, since this is a local paper, it's good to say that the local media needs to get behind stuff that isn't just the two Pittsburgh rappers [Wiz Khalifa and Mac Miller]. I understand it on one level, because a lot of bands around here pop up and don't matter and then disappear. But at the length we've been doing it here, they should be playing us on the radio, we should be on the covers of these papers, we should be everywhere," asserts Morgan.
"We've proven what we could do, and now [that coverage] is starting to happen," Morgan continues. "But we've always repped Pittsburgh and talked about the city. I'm hoping the city starts to talk about us."
Code Orange is changing the face of metal and it isn't afraid to come out and say it. Remaining modest doesn't get you very far, and it's hard to be humble when you've been acknowledged in such mainstream fashion. With the Grammys coming up, CP asked the band members what they thought their chances were against August Burns Red, Body Count, Mastodon and Meshuggah for the Best Metal Performance Grammy.
"I am fully expecting to win. We always expect to win, but we never count on anything. And that's what being from Pittsburgh teaches you," says Morgan. "I won't be shocked at all if we win or lose. It's just two different doors. Winning would be a nice easier door to some more cool shit. Losing would still be cool because we still got nominated."
Beyond the Grammys, the band has no plans to stop its course set on world domination.
"We want to push it to another level on hardcore and metal," explains Morgan. "Most hardcore and metal bands treat the Grammys like they're worthless, because the Grammys treat them like they're worthless.
"We were just watching the Metallica VHS, and them being [at the Grammys] is a big part of the show. Nobody cares about [metal] now. My goal beyond [winning a Grammy] is putting heavy music back in the actual spotlight, not the minor leagues. But it all takes time. Musically, we keep growing, and people will know and see the growth."
Morgan concludes: "It's about keeping that upward momentum in whatever way feels good."